The best baby shower gift ideas are also the simplest. Babies don't need a ton of things, so learn how to choose gifts for friends and family that practice a natural parenting lifestyle.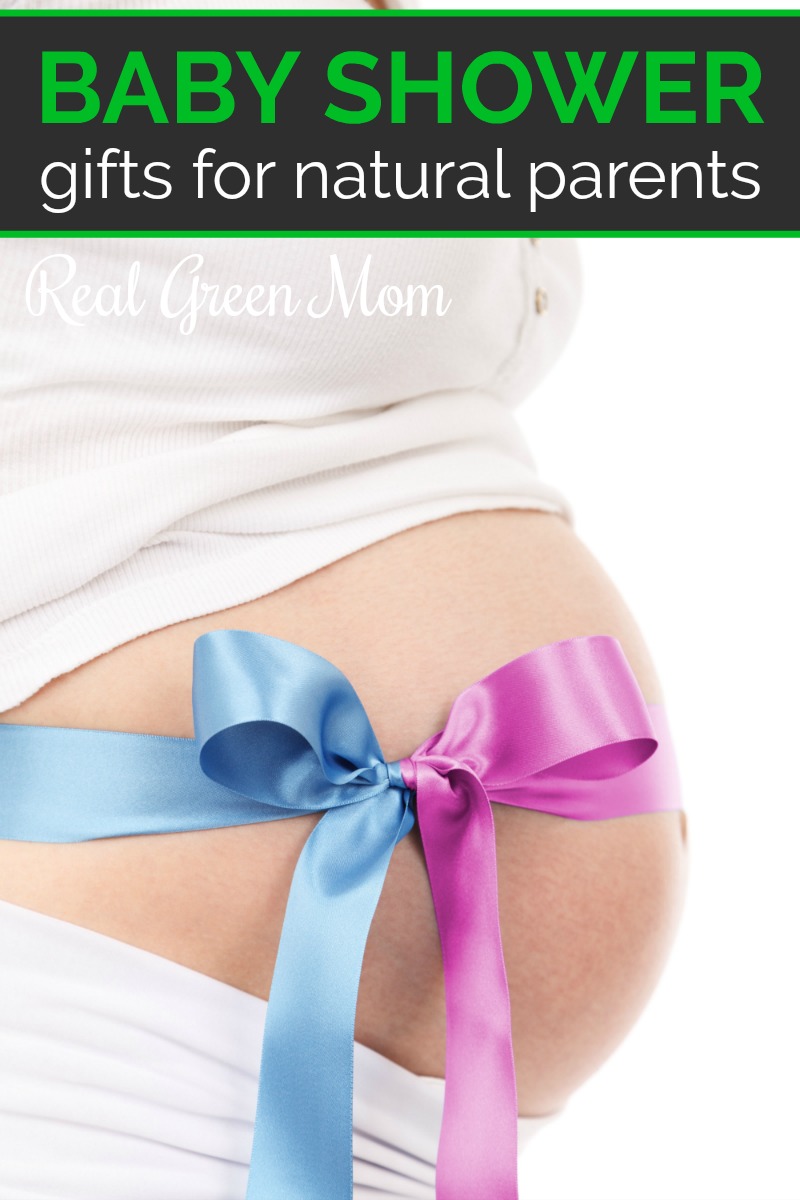 Finding out you're pregnant for the first time is a wonderful time. However, once you start planning for the baby's arrival, it can be overwhelming to try and figure out which things you actually need for the baby.
This challenge can be especially hard for people who choose to live a natural lifestyle, when their friends and family don't share that same philosophy. Creating a registry for your baby shower can be a daunting task – I know it was for me.
After having two babies while continuing on our natural living journey, I have come to figure out what items I consider essential for a new baby. If you're a first time parent who also believes in natural living, I hope this list is helpful for you in developing your registry for your baby shower. Or if you're shopping for a baby shower, I hope these gift ideas are helpful.
Baby Shower Gift Ideas for Natural Parents
1. Baby Carrier
When Zoë was a baby, she wanted to be close to me all the time. She also took a 20 minute nap every 2 hours like clockwork. I was literally housebound until I discovered the Moby Wrap (get one on Amazon).
It allowed me to wear her anywhere – and she would happily nap away in it. It completely saved my sanity.
Kaylee preferred to be in a soft structured carrier like the Ergo baby carrier from the time she was born (see them on Amazon). When she got bigger, we often used our Onya Baby Carrier with her because it breathes so well (read reviews on Amazon).
If one carrier doesn't work for you, try another one. Many communities have babywearing groups where you can try various carriers before deciding upon one.
2. Natural Baby Care Products
One thing to be very careful about is what you put on your baby's skin. You want to avoid ingredients like fragrance, parabens, sulfates, propylene glycol and more.
Look for ingredients you can pronounce from only the best natural baby care products. My favorite natural brand for babies is Earth Mama Organics.
3. Breastfeeding Supplies
Setting yourself up for breastfeeding success is important. Make sure you have the right breastfeeding supplies before the baby is born.
Some things you'll need are nursing bras and tank tops, nursing pads (reusable ones are much more comfortable) and a natural nipple butter. Many people also like using a nursing pillow and a nursing cover.
4. Onesies
During the summer months, my girls pretty much lived in onesies. It made life so much easier.
Diaper changes were easier and the girls were much more comfortable being worn in a baby carrier that way. If you can, invest in organic baby clothes.
5. Swaddle Blankets
Some babies like being swaddled and others don't. Kaylee loved it. All I'd have to do is swaddle her and rock her for a few minutes and I could lay her down and she'd fall fast asleep. Look for organic swaddle blankets.
6. Help at Home
The gift every parent needs most with a new baby is help. Make coupons that are an actual promise to come over and cook a meal or clean the house.
Another idea is for you to watch the baby so mom can nap or take a real shower. Do something to take pressure off the new parents.
Any of these items would make a great baby shower gift idea for the natural parent.