We often use home remedies for ear aches as long as they're minor. Learn how to make our family's garlic infused olive oil recipe for minor earaches in this easy tutorial.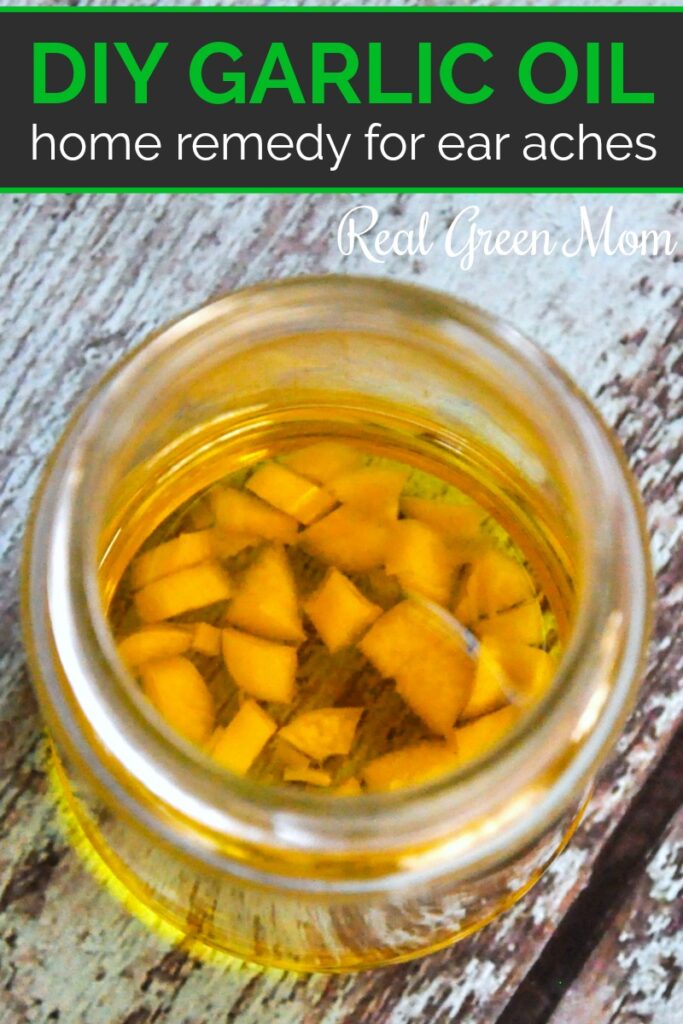 I've been very fortunate that we haven't had many ear infections with our daughters. When I was a kid, I was constantly on antibiotics for ear infections.
When the girls were little, I read many places online about using garlic infused olive oil as a home remedy for ear aches. Since it is so quick and easy to make, I whipped up a batch the first time one of them got an ear ache.
The first time we tried homemade garlic oil for an ear ache, my daughter was a bit nervous, but agreed because she was in a lot of pain. I rubbed a small amount around the outside of her ear canal and allowed a couple of drops to go into her ear canal. Within two minutes, she was fast asleep when she'd been struggling to rest previously.
After about three doses of garlic oil in her ear, she was getting back to her normal self. At this point, I was able to ask her whether the garlic oil helped. She said it felt weird when I first put it in, but when it dried, the pain would go away. We've successfully used this DIY garlic oil recipe several times for earaches since.
I would never use this recipe as a substitution for medical advice or medical treatment for a severe ear infection. We always have the girls looked at by a doctor when they have an ear ache to be sure it's not something that needs medical treatment.
This DIY garlic oil is helpful though for relieving pain related to ear aches though, and will often clear up the pain without the need for a doctor's visit. If you don't want to make your own, you can also purchase ready-made garlic oil.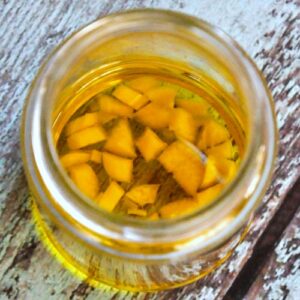 DIY Garlic Oil Recipe for Ear Aches
If you or your child has a mild ear ache, give this homemade garlic infused olive oil home remedy a try.
Print
Instructions
In a small sauce pan, heat the oil until it's warm to the touch, but not hot. Put the chopped garlic in a small glass container, then pour the warmed olive oil over it.

Put the lid on the container and allow the garlic oil to infuse overnight (for a minimum of 2 hours in a rush). Strain the garlic from the oil and store in a airtight glass container.
Notes
To use, rub a small amount of garlic oil around the outside of the ear. If the infection and/or pain is inside the ear, you can rub it closer to the entrance of the ear canal and let 1-2 drops to go into the ear canal.
Use as needed. If pain does not improve or worsens, seek medical advice.