We live on a dirt road, so I've been looking for a good double jogging stroller that could handle the terrain (the street on the other side of the stop sign is even rougher).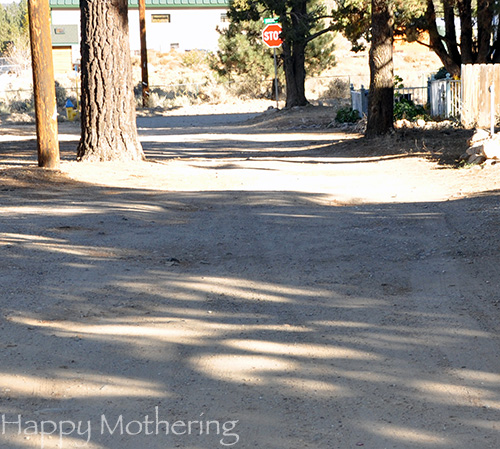 After research (and coveting one for years), I settled on the BOB Revolution Duallie, which has a 100-pound weight limit (between kiddos and cargo). The maximum occupant height is 44" (Zoë has about 2.5" to go before she hits that limit).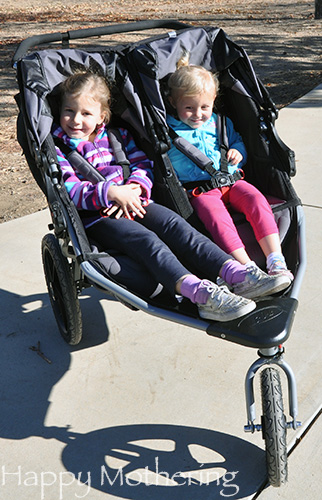 Many of the other strollers I looked at had a front wheel that was permanently fixed. Since there are paths around the lake that aren't straight, I needed something that would turn easily AND something that could handle a rough terrain. The BOB Resolution SE Duallie has a pneumatic front wheel that can be fixed or swivel – so I can take it anywhere!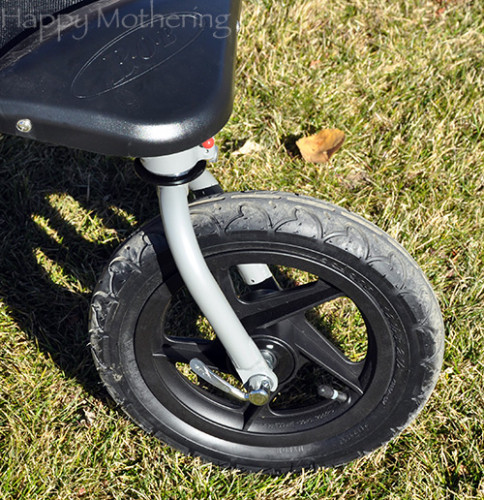 You have to twist the front wheel tracking adjustment knob to switch between swivel and fixed wheel modes.
I'd read that the stroller had really great suspension, so I popped both girls into the stroller and ran down our street zigzagging back and forth. They loved it – lots of giggles and squeals of delight! It seems like the suspension really did work great because they asked me to do it again on our walk back home from the park.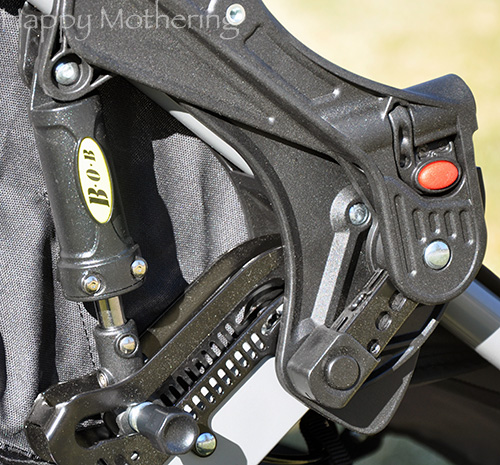 There are actually two shock positions to allow you to fine-tune the suspension depending upon the weight of your occupants and cargo.
The seats are nice and padded, and even have a lumbar support pad. The girls say that they are comfortable.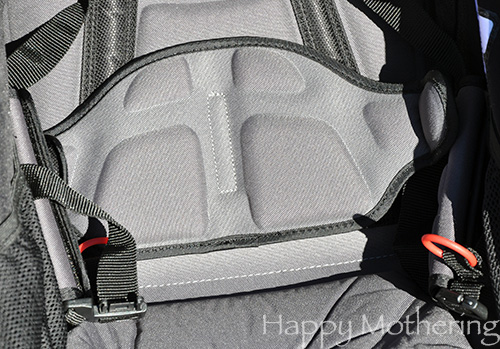 The five-point harness is great too – especially if you're jogging or on a bumpy trail and want to make sure your little one is secure (even Zoë doesn't mind wearing it).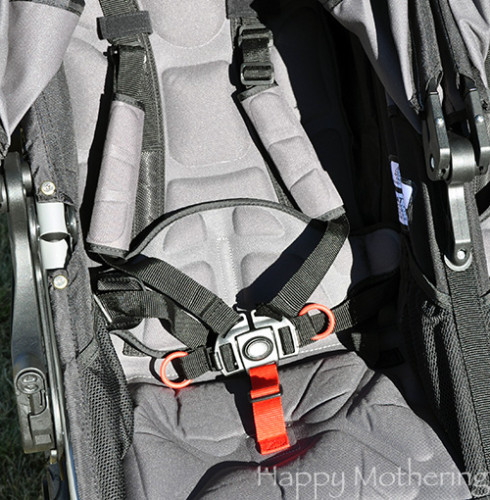 The seats recline back to 70° from vertical to allow your kiddo to rest comfortably if you're out and about.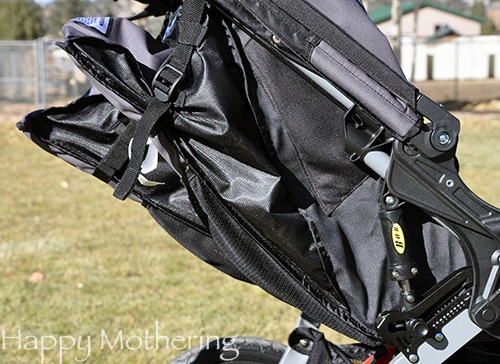 The canopies on this double jogger are awesome with a 125° range of coverage. Fully extended, they can really protect your child from the sun, which is very important at this altitude (~7,000 feet).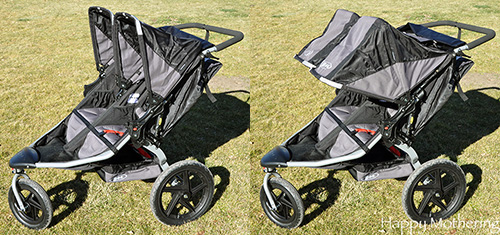 There is a large viewing window on each canopy so you can keep an eye on your babies without disturbing them.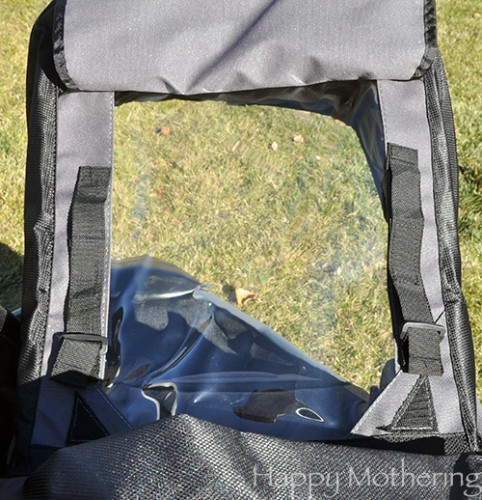 I also really like how high off the ground the basket is. It's not a huge basket, but it's big enough to carry what we need these days.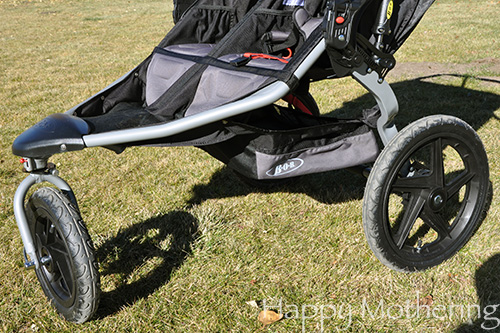 There are also large seatback pockets and pockets on each seat for your little one to store their snacks and toys.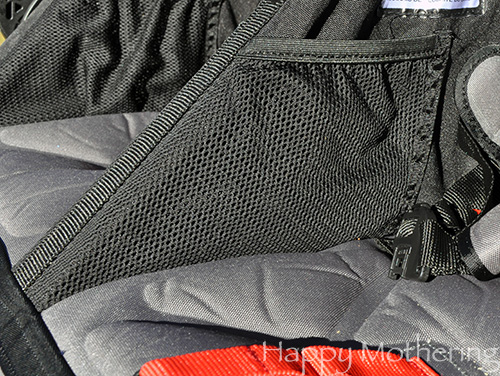 The handlebar is padded for the parent's comfort, and it has a wrist strap to help you ensure the stroller is secure (it also serves as a lock when the stroller is folded).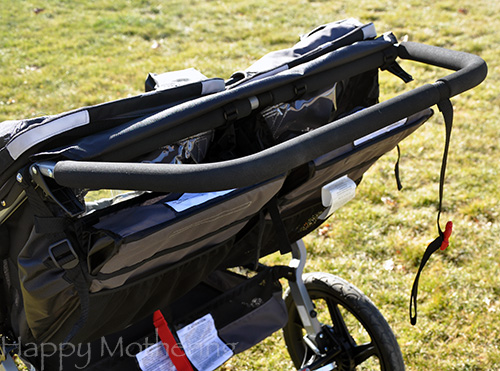 I like that the parking break is easy to engage. It's one press for both tires rather than battling with individual tire locks.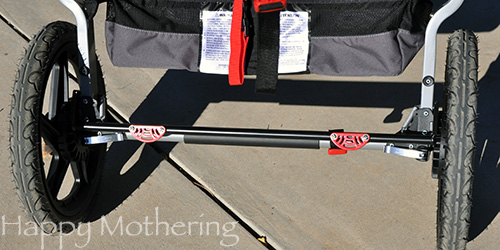 It did take me a minute to figure out how to fold the stroller because it's a 2-step process. The first step is a lever up on the handlebar (image below), and the second step is a button down by the shocks (if you look at the picture above where I show the shocks, it's the red button).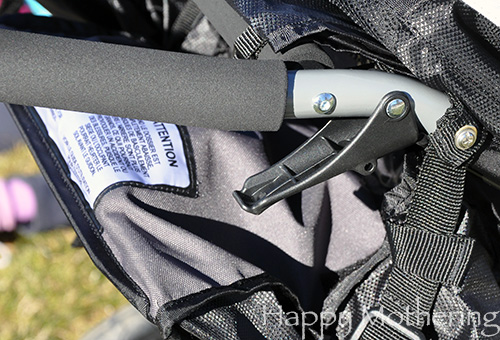 Once it's folded, you just latch it and you're all set! After you get the hang of it, it's pretty easy. And, at 34 pounds, even I can pick it up and move it around where it needs to go.
Accessories to Pick Up
One thing to know is there isn't a place to put your water bottle, so you'll definitely want to pick up a handlebar console. It really comes in handy!
You can also get other accessories like a snack tray, a weather shield and a sun shield as well as an infant car seat adapter. The snack tray was a must for us!
Buy the BOB Duallie Revolution Stroller
If you're looking for an awesome, top-of-the line double jogging stroller, I recommend the BOB Revolution Duallie.