I make no secret of it – I'm a huge babywearing advocate. Not only does wearing your baby foster a sense of comfort and attachment, it also allows you to have your hands free! That has been a huge plus for me with both of the girls.
I tried several carriers when my girls were little, and I just love discovering new brands. I was recently sent an Onya Baby Carrier in exchange for an honest review. The timing couldn't have been better as my ErgoBaby Carrier recently broke. With hiking season upon us – I needed a new carrier!
One of the things I love about Onya Baby's style is how the water-resistant nylon exterior and air-mesh lining breathe so I'm not left feeling all sweaty and gross if we're out in the heat. We like to be outside and active during the Spring and Summer months, so that's huge!
I also really like how gender neutral the style and colors are. Brian loves using this carrier as much as I do. But I usually win and get to use the Onya Baby and leave him with our older Kelty Carrier when we need to wear both girls.
Here he is carrying Zoë in the Onya Baby Carrier: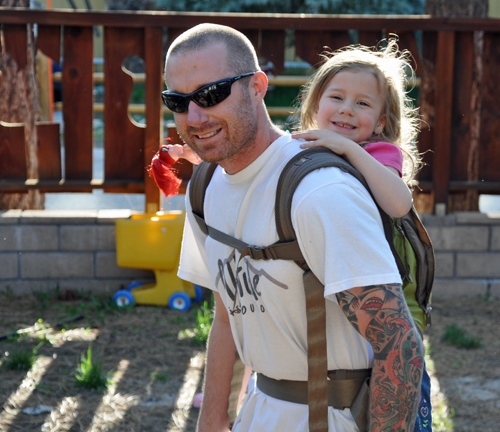 I have been taking it everywhere with us because I just never know when I'm going to need to wear Kaylee. She is a runner and she thinks it's hilarious to try to outrun me at the grocery store or wherever we're out running errands.
When she sees me strap the Onya Baby Carrier around my waist, she knows I mean business. Either she sticks by me, or she's stuck in the carrier. But that doesn't mean she loves being worn any less.
We were over at some friends' house last week and I brought the carrier just in case Kaylee wanted to be held. I was glad I did, because she got tired for a bit (before getting her second wind) so I was glad I could wear her. I didn't have my camera with me, but Brian snapped a couple of really sweet candid shots of us with his phone.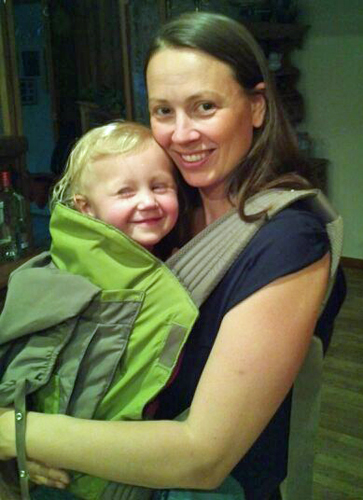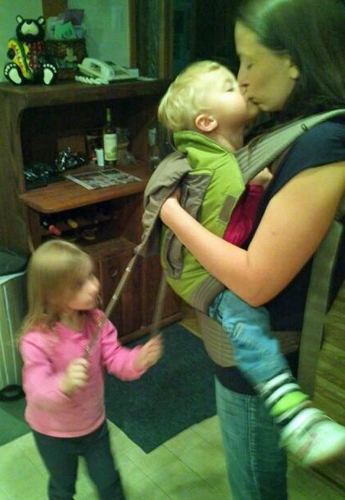 That's the hood Zoë is tugging on if you can't tell. Kaylee loves having that put over her when she wants some quiet time.
One feature of the Onya Baby Carrier that I hadn't seen before and so wish we had when Kaylee was a bit smaller is the integrated chair harness. It enables you to easily and safely convert nearly any adult chair into a safe seat for your baby. I think this is such a great, unique feature that sets Onya Baby apart from some of the other carriers we've tried.
So, it can be used on your front, on your back or on a chair!
Overall, I have been very impressed with our Onya Baby Carrier, and I'm so pleased that both girls enjoy being worn in it. I know that it will get plenty of use this summer and many years into the future since it's designed for kids up to 45 pounds!
The Onya Baby carrier is great for hikes, long walks or any time you think you might need an impromptu baby seat!