Thank you to Boba for providing the products mentioned in this post. Although I received these products free of charge, all opinions expressed are my own.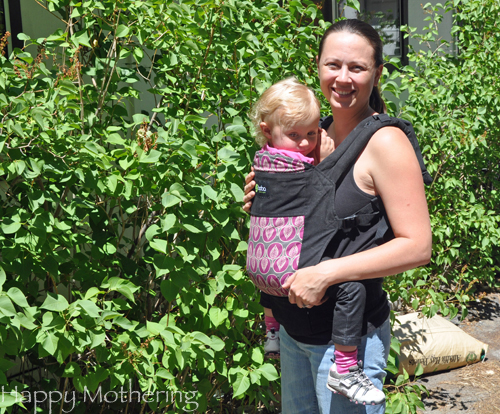 Now that my girls are older, I'm a Soft Structured Carrier (SSC) junkie. Zoë weighs about 35 pounds and Kaylee weighs around 25 pounds, but I still wear them both (and so does Brian). I have heard a lot about Boba carriers over the last few years, so I was excited to get to try a Boba soft structured carrier.
The first thing I noticed when I put Kaylee in the Boba 3G carrier was how comfortable it is. It's made from 100% cotton, and it has just enough give to where I feel like it conforms to her shape and makes her feel extra snuggly. The material is very lightweight (not much padding), so it's not a bulky carrier at all, which is great for short trips to the store or a jaunt down to the park.
We took a trip to Costco a couple weeks ago to return our vacuum (that burnt out after only a few months) and Kaylee was out like a light in the Boba. I had taken the hood out of the carrier to make it even easier to transport, but was definitely wishing I had it that day!
However, I do love that that the hood is removable, and that you can store it in the small zippered pouch when you're not using it (or you can use the pouch for storage if you detach the hood).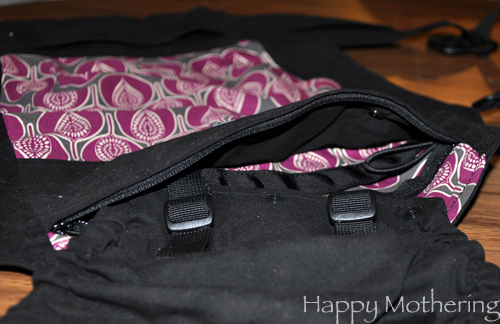 There's another small zippered pouch on the waistband as well. Just enough storage for my phone, keys and a small wallet.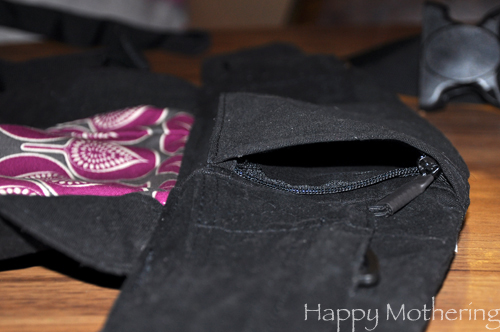 One thing that did concern me at first was the fact that there isn't an extra security loop to catch the waist buckle if it comes undone. But that concern was quickly alleviated because they buckle is very strong, military grade in fact. I had a little difficulty getting it snapped at first, but I'd rather that than have it easily pop open!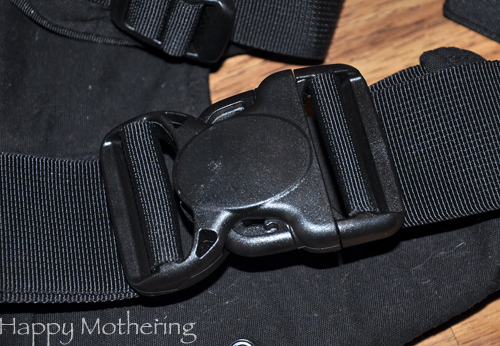 There is one feature I haven't tried yet, but really want to – the foot straps. We're in the middle of packing to move, so somehow they must have gotten misplaced in the midst of the chaos. I really think Kaylee would like having a place to rest her feet when she's on my back for extended periods of time. And I like that they are designed to keep your child's legs in the flexed abducted (froglike) position, which will naturally tilt the pelvis, fill out the hip sockets and align the spine.
There's also a nifty shoulder strap holder on each side to keep your purse or diaper bag in place. I can think of many times when that would have come in handy!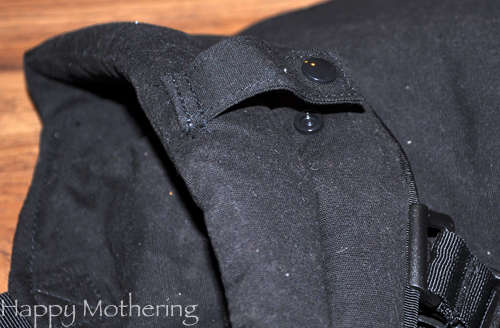 The Boba 3G Carrier is designed for babies and children that weigh 7 to 45 pounds, and can be used for both front and back carry positions. And while I haven't tried this, it converts to an infant carrier without an insert – I thought that was a neat feature.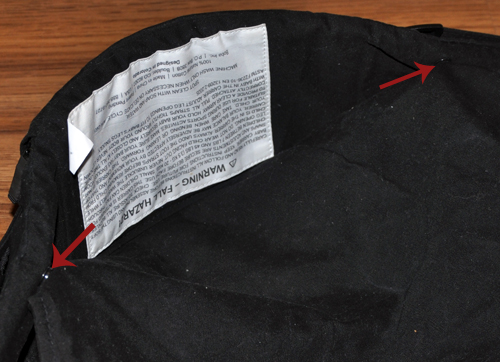 It's also made to fit parents of every size and shape without the need to purchase an extension belt or accessory. It should comfortably fit people of heights 5'0" to 6'3" with a waistband range of 25" to 58". Additionally, all straps are fully adjustable, and there are elastic bands so you can tuck the straps away once you have the carrier adjusted for you and your child.
The Boba soft structured carrier will get plenty of use in our house. I'll use it mostly for short trips where I don't need a lot of storage, but don't want to carry around a bulky carrier – like our walks to the park.
Boba also offers a Boba Wrap, a great carrier for babies from birth until around 18 months, and the Boba Air carrier, an ultra lightweight and ergonomic carrier ideal for travelers and parents on the go.