I received a gently used organic ERGObaby carrier around the time Kaylee was born. I used it all the time until I left it on the floor, and Brian accidentally stepped on it and broke the waist buckle (he has a heavy foot). So I was thrilled to have the chance to test out their Performance Carrier.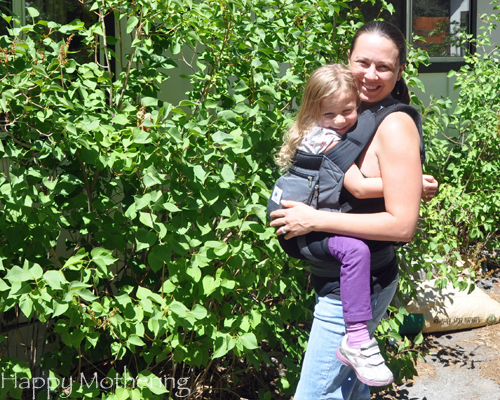 We spend a lot of time outdoors since we live in a beautiful mountain town next to a lake. If I know we're going to be out in the heat for long periods of time, I like to have a carrier with me that I know will breathe so I don't feel like I'm wearing my own personal heater.
The ERGObaby Performance Carrier is great for outdoors activities! The outer layer of the carrier is made from high-performance Ripstop water-repellant polyester. I was surprised by how soft the fabric is. It seems to conform nicely to the girls' bodies.
The carrier's lining is made from mesh in the Charcoal and Blue models to provide extra wicking (I have the Charcoal). Whereas the Gray and Green models have a 100% cotton lining that is also designed to be moisture wicking (just not as much).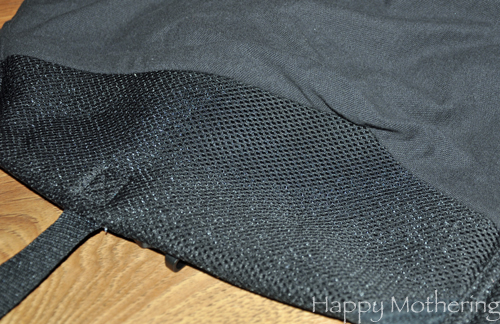 The stitching is also heavy duty. It's reinforced at all fabric intersections for extra durability and at critical intersections in the interior for added safety.
Additionally, the ErgoBaby Performance Carrier is super lightweight (at only 1.21 pounds), so I don't mind wearing it buckled around my waist in anticipation of one of the girls wanting to be worn while we're out.
I like that the sleep hood is also made of the same water-repellant fabric as the body of the carrier. Kaylee loves to hide under it when the sun is too bright, or when she's just not feeling social. It's very adjustable, so it should fit just about any child you might want to carry.
The hood has its own little zippered pocket for storage, but there's quite a bit of space in that pouch, so if you're not using the hood, you can easily stash a couple small belongings in it too.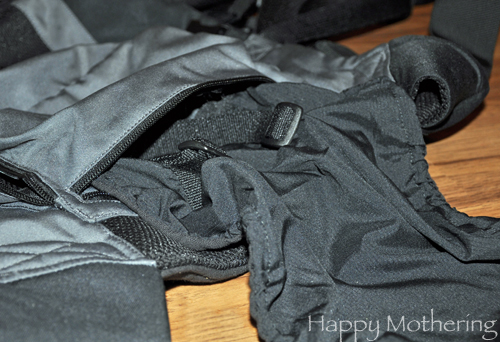 There's another large zippered pocket just to the right of the hood storage compartment that holds quite a bit. I'm sure you could stash a diaper and wipes in there in addition to your phone, keys and a small wallet.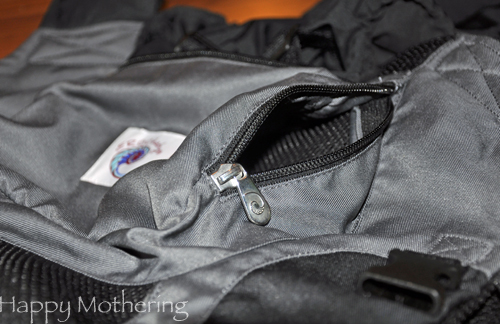 One of the features I really love in this carrier is how padded the shoulder straps are (there's nothing worse than straps that dig into your shoulders). The Performance Carrier's shoulder straps are padded with 1" high-density premium foam, and expand from 27" to 49" in length.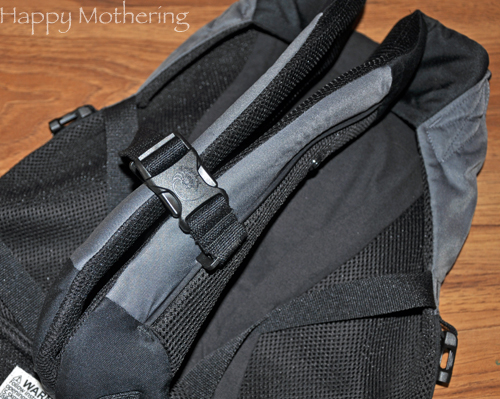 The waist strap is also lightly padded with 1/4" high-density EVA foam, and expands from 23.6" to 51.18" in length. I love that the waist buckle has the extra security loop as an added safety feature.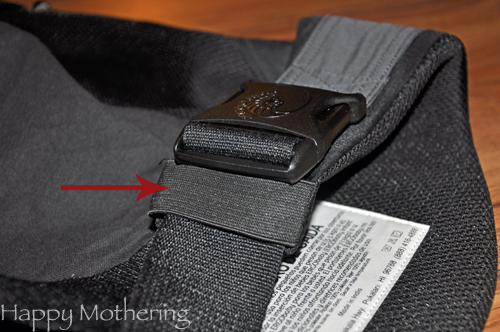 It's a very comfortable carrier for both parent and child. The design ensures that your child's weight is evenly distributed between your shoulders and hips, so you're always comfortable. It will fit adults who are 5' to 6'5" tall, depending upon body type.
Because you can only use the ERGObaby Performance Carrier in the inward facing position, it properly supports your child's hips, pelvis and spine. It's designed to be used with a wide range of ages and weights, from 7 to 45 pounds.
You can use the carrier for front, back and hip carrying. I've gotten so comfortable with the back carry (and the girls love to be front carried) that I haven't tried hip carrying yet. That's next on my list.
There is also a wide range of compatible accessories that ERGObaby offers. I got to try the Cargo pack, which snaps right under the large zippered pocket and velcros to the waistband so it's very secure. You could easily stash 2 water bottles and all of the snacks you need for a hike in it.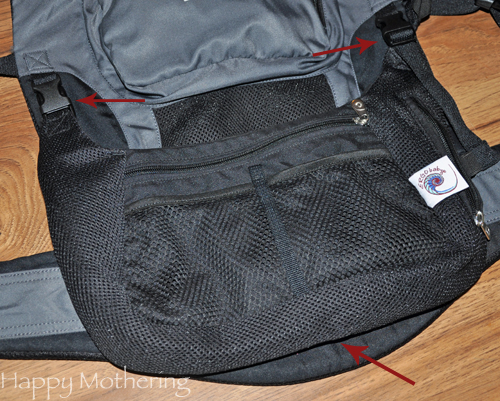 Overall, I love this my ErgoBaby Performance Carrier. It's comfortable and durable, and was always one of my go-to carriers for long walks and hikes during the warm summer months! It was also one of the last to go from my babywearing stash when my girls got bigger.