Did you or one of your kids get stung by a bee and now you need to know what to do to ease the swelling and pain? Check out these 16 natural bee sting remedies for itchy bee stings.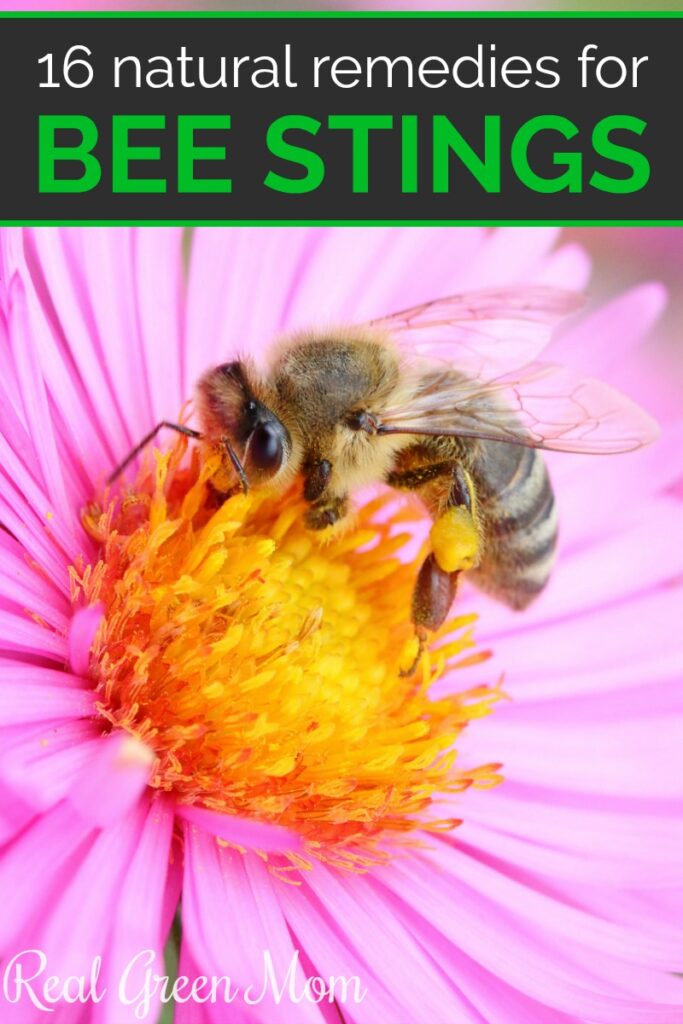 The flowers are in bloom all around our house. Even the flowering trees at the park are in full bloom – it's a beautiful sight.
As nature goes, where there are flowers, there are bees. I have told the girls many times to stay away from the bees because – not only do they sting – we need them to help make flowers and grow food. However, they are bound to get too close to them now and then.
When Kaylee was a toddler, a bee stung her finger and we weren't prepared. I didn't know anything about natural remedies for bee stings, so off I went to the pharmacy for Benadryl. That's the knee jerk reaction when you aren't prepared…
So, shortly thereafter, I started looking up natural home remedies for bee stings. I don't like giving the girls pharmaceuticals or over the counter medications if it can be avoided, so I have been prepared for bee season every year since.
Here are 16 natural bee sting remedies:
1. Apis Mellifica
Apis Mellifica is a homeopathic remedy made of whole bees that is supposed to work amazing wonders on bee stings.
2. Apple Cider Vinegar
Make sure it's raw for full benefits, but you can jut put a drop of apple cider vinegar on the sting for relief.
3. Basil
You can crush up fresh basil leaves and it's supposed to be effective for relieving pain cased by bee stings.
4. Baking Soda & Water
Just mix baking soda and water together to form a thick paste and slather it on the sting to neutralize the pain. Don't wash it off for best results.
5. Bentonite Clay
Make a paste with the clay just like you would with baking soda and apply it to the sting. Bentonite clay is especially good at drawing out venom.
6. Activated Charcoal
You can make an activated charcoal drawing salve to help clear the wound. The charcoal helps to draw the toxins up out out.
7. Calendula
Applying a calendula cream to your bee sting can reduce both itching and swelling. It's a very soothing herb.
8. Garlic
Simply crush a garlic clove to release its juices and press it against the sting.
9. Honey
Oddly enough, pouring some good quality honey on the site of the bee sting can reduce pain and inflammation. Honey also has antibacterial properties to reduce the risk of infection.
10. Ice
This is a fast and easily accessible remedy anyone can use to reduce swelling and pain by numbing the sting area.
11. Onion
Cut an onion in half and press the inside of the onion against the bee sting.
12. Meat Tenderizer
We don't have meat tenderizer in our house, but I remember it being a staple in our home as a child. You can make a paste just like you would with baking soda and apply it to the sting for some relief if you have a bottle in your pantry.
13. Plantain
I'm going to be honest. When I would read about plantain remedies, for years I though of the fruit that's similar to bananas. This plantain, however, is a weed that is found in nearly every region and climate.
You just chew up the leaves to release the juices or roll them firmly roll between your thumb & fingers for the same effect. Once the juices are released, press the leaves against the bee sting.
14. Bee Balm
A plant, you prepare the Monarda didyma leaves the same way as plantain leaves as described above.
15. Toothpaste
While this would probably be a last resort for us, you can put a dab of toothpaste over the sting, much like the baking soda remedy, and it should neutralize the pain and swelling.
16. Essential Oils
As with everything else, there are essential oils that can ease the pain associated with bee stings. Some of the best oils to try are frankincense, lavender, tea tree, eucalyptus or roman chamomile. Be sure to properly dilute essential oils before use.
There are so many natural remedies for bee stings. Sometimes you'll have to try a few bee sting home remedies before you discover the one that works best for you.