If you are thinking about making homemade baby formula for your infant, I've gathered the 5 most popular recipes from around the web. I've also included some important safety information about homemade baby formula from government resources you should consider before making one of the recipes.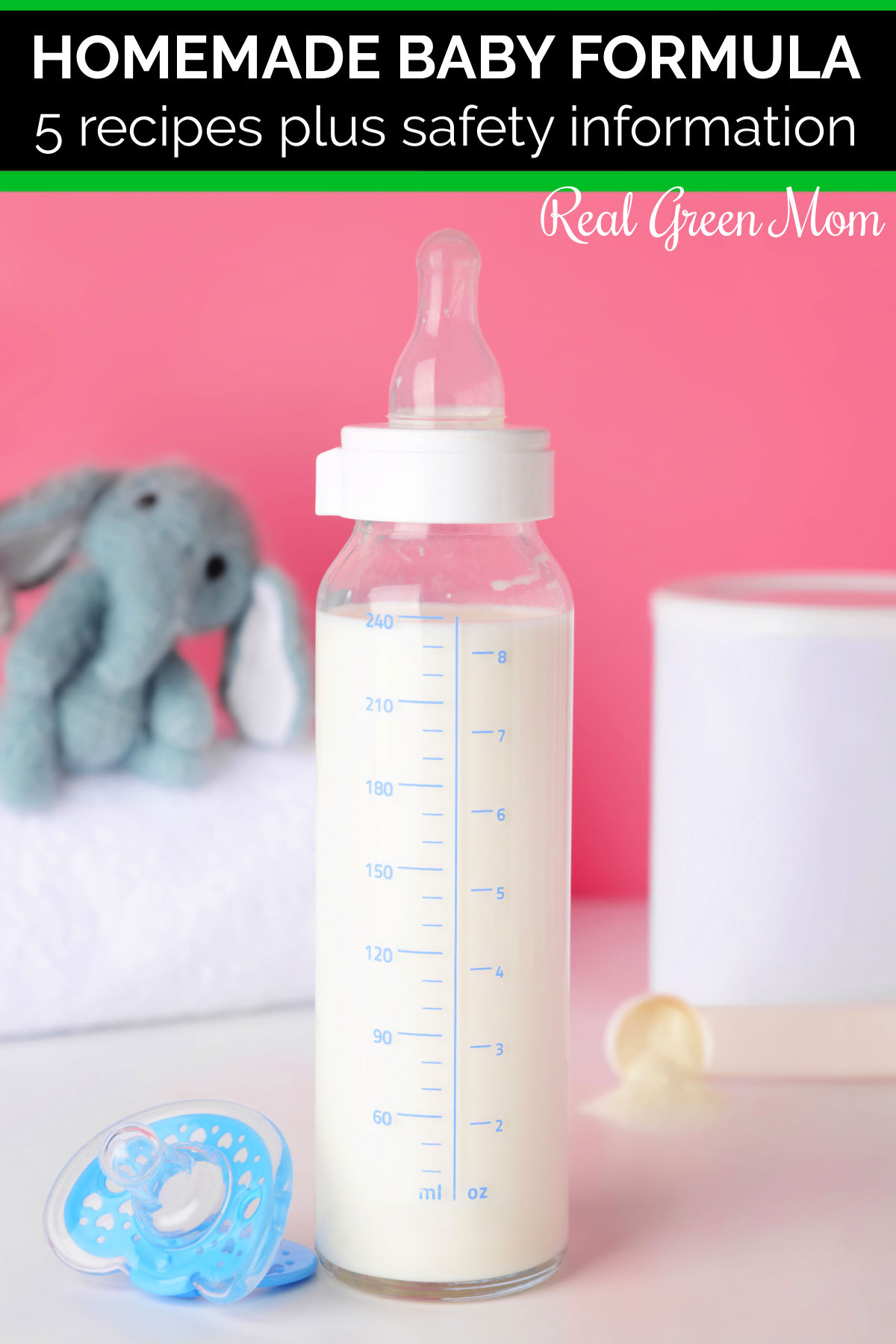 When it comes to infant feeding, we've all heard the phrase, "breast is best," but not everyone has that option. For a variety of reasons, many moms need to rely on commercial formula to feed their babies.
Whether they don't make enough milk, their baby has food allergies, they need to go back to work or they simply don't want to breastfeed, they rely upon formula to feed their babies.
Unfortunately, when supply chain issues happen or a product recall is announced, these same moms can find store shelves empty. The United States is currently experiencing a tragic baby formula shortage.
Moms can't find their favorite formula brands, and some are having trouble finding any infant formula at all in their area. So what's the best choice for a mom to make when she needs to feed her baby?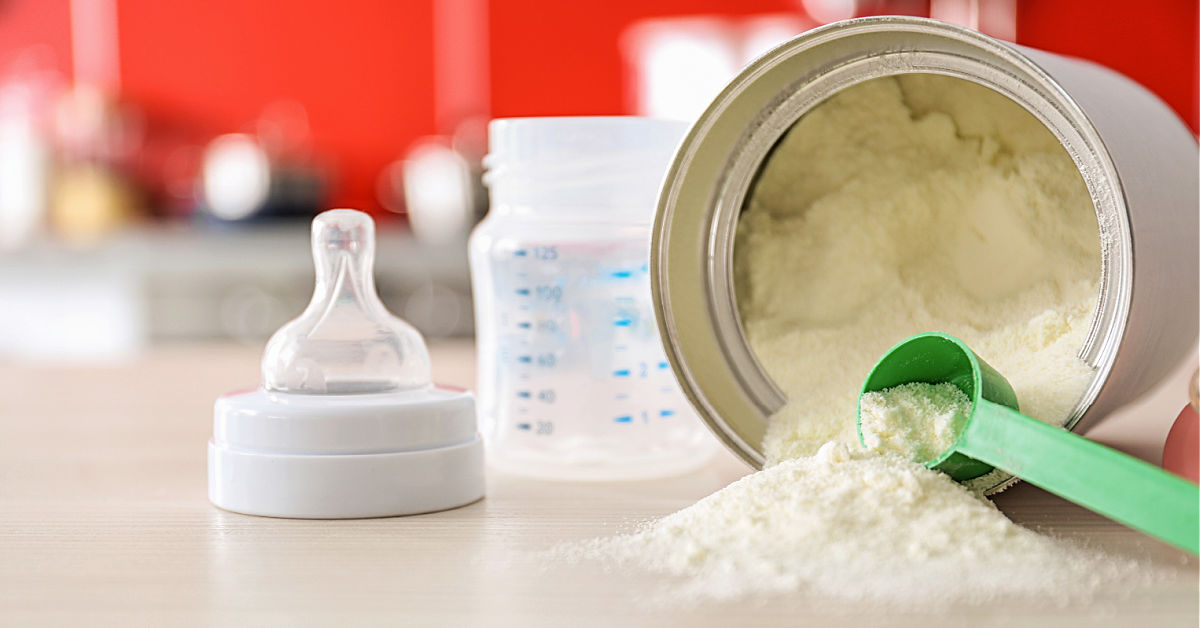 Ideas for Dealing with the Formula Shortage.
If you're struggling due to the infant formula shortage, here are some things you can consider doing to get help. Some of them are good ideas and some of them are not.
1. Check with a Local Milk Bank.
If breast feeding isn't a possibility, the next best option is mother's milk from a milk donor or wet nurse. It's best if you can get donations straight from someone you know well who has an excess milk supply.
If not, you can check with the major organizations for pasteurized donor milk to see if they're available in your area, including:
Also look for local resources like Facebook Groups that may have info about smaller milk banks in your area.
2. Look Outside the United States.
Another option circulating the internet is to look online for European brands of formula that will ship to the U.S. However, the AAP doesn't recommend it and the USDA warns about mislabeled, expired and counterfeit imports. So proceed with extreme caution.
3. Check with Government Resources.
If your family is on WIC or the Special Supplemental Nutrition Program (SNAP), check with them to see if they can help you locate formula within your community.
Even if you're not on SNAP, the government has put together a webpage with information about the formula shortage.
4. Introduce Solid Foods.
The American Academy of Pediatrics recommends introducing solid foods at around 6 months of age. If your child is old enough, it may be a good idea to consider introducing solid foods to reduce the amount of formula they need. Some good choices are cooked egg yolks and avocados.
5. Introduce Whole Milk or Toddler Formula.
Dr. Steven Abrams, a professor of pediatrics at the Dell Medical School at The University of Texas at Austin, has said that most babies can start drinking some whole cow's milk at 6 months old, if it's not long term. The same goes for toddler formula.
Neither of those options are considered safe for babies under 6 months of age, but at any age before 12 months, speak to your child's pediatrician first.
Make Your Own Formula.
When these options don't work for you, it may be time to consider making homemade formula. Before going this route, it's important to consider the safety information that has been put out by organizations like the American Academy of Pediatrics, the U.S. Food and Drug Administration and the United States Agricultural Department.
Is Homemade Formula Safe?
As the parent, you'll need to make that decision. You should be aware that the American Academy of Pediatrics strongly advises against homemade formula.
On their website, they say, "Although recipes for homemade formulas circulating on the internet may seem healthy or less expensive, they are not safe and do not meet your baby's nutritional needs."
The US Food and Drug Administration (FDA) also advises against using infant formula recipes. The FDA regulates the infant formula industry, and they have strict rules and safety requirements that can't be met in a home environment.
Babies have specific nutritional needs and feeding them a homemade formula can result in severe nutritional imbalances and serious health problems. They're worried about potential problems they've seen with the use of homemade formula, like low calcium leading to hospitalization and foodborne illnesses that immature immune systems can't handle. No homemade infant formula recipe currently meets their quality and safety standards.
Commercial infant formulas are designed to meet baby's nutritional needs as closely to human breast milk as possible. According to experts, making your own baby formula may not provide proper nutrients in the same way.
That said, sometimes things happen, and you need an option like making a batch of formula for short term use in an emergency situation. So, I pulled together 5 homemade formula recipes that are circulating around the internet.
Homemade Baby Formula Recipes
These recipes are provided for educational purposes only. Please speak with your child's pediatrician for medical advice before starting any new feeding routine, including trying a homemade baby formula recipe.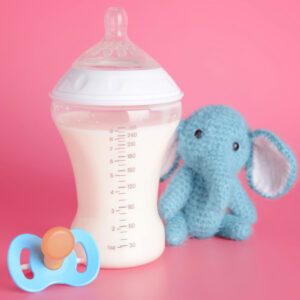 Raw Milk Formula Recipe
Print
Ingredients
2

cups

whole raw cow's milk

preferably from pasture-fed cows

¼

cup

homemade liquid whey

made from yoghurt, kefir or separated raw milk not powdered whey or whey from cheesemaking

4

tablespoons

lactose

¼

teaspoon

bifidobacterium infantis

2

tablespoons

good quality cream

½

teaspoon

unflavored high-vitamin or high-vitamin fermented cod liver oil or 1 teaspoon regular cod liver oil

¼

teaspoon

high-vitamin butter oil

optional

1

teaspoon

expeller-expressed sunflower oil

1

teaspoon

extra virgin olive oil

2

teaspoons

coconut oil

2

teaspoons

nutritional yeast flakes

2

teaspoons

gelatin

1 ⅞

cups

filtered water

¼

teaspoon

acerola powder
Instructions
Heat half of the water in a small saucepan over medium heat.

Add the gelatin and lactose to the pan, then stir until melted and dissolved.

Remove from heat, then add the rest of the water.

Stir in the coconut oil and butter oil until melted, then add to blender with remaining ingredients. Blend for about 3 seconds.

Transfer to glass baby bottles or a large glass mason jar and refrigerate. Warm bottles before serving.
The remaining formula recipes do not require any melting or dissolving, so with each of these ingredient lists, simply mix everything together and then store in the refrigerator.
Dairy Free Baby Formula Recipe
This homemade formula recipe uses a milk alternative as the base, but adds lots of other ingredients to improve the nutritional profile. Makes 64 ounces.
Ingredients
1 quart milk alternative (like almond milk, soy milk, rice milk, etc.)
½ quart aloe vera juice
½ quart filtered water
1 teaspoon chlorophyll
2 tablespoons blackstrap molasses
2 tablespoons infant probiotic liquid
2 teaspoons flax oil
2 teaspoons cod liver oil
Liquid baby vitamins
Simple Powdered Goat Milk Infant Formula Recipe
This is the simplest formula recipe you can make with goat's milk powder to use in an emergency situation by Ask Dr. Sears. Makes 36 ounces.
Ingredients
6 scoops powdered goat milk
36 ounces filtered water
6 ½ teaspoons rice syrup
Powdered Goat's Milk Baby Formula Recipe
While this recipe also uses a goat milk powder, it includes additional ingredients to alter the nutritional balance. Makes 32 ounces.
Ingredients
4 cups filtered water
4 tablespoons goat milk powder
2 teaspoons coconut oil
2 teaspoons olive oil
4 tablespoons turbinado sugar
½ teaspoon molasses
Evaporated Milk Infant Formula Recipe
This is the original Gerber baby formula recipe that doctors handed out in the 1960s. It's the same one that recommended giving babies orange juice, so use with caution. Makes 24 ounces.
Ingredients
13 ounce can of evaporated milk
20 ounces filtered water
2 tablespoons karo syrup (corn syrup) or molasses
I hope that this blog post provided you with everything you need to know about the safety of homemade baby formula as well as some recipes to try in case of emergency.