Has an annoying cough struck your home? Before you reach for a throat lozenge, read the ingredients. You'll find that most cough drops are full of undesirable ingredients. Fortunately, it's super easy to make your own DIY cough drops with clean ingredients at home.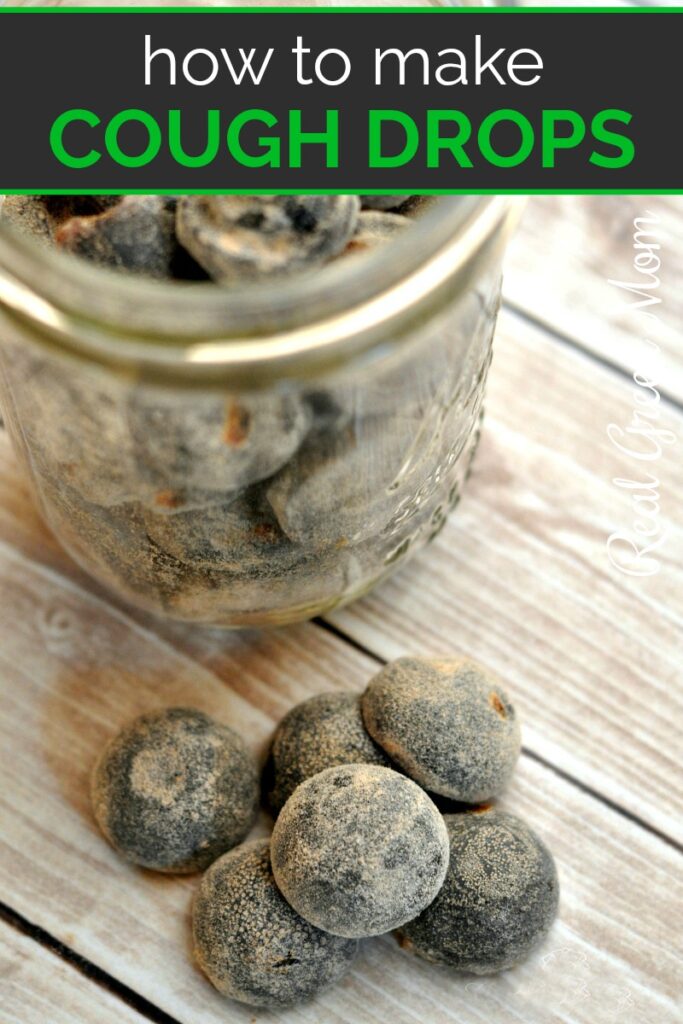 I grew up sucking on cough drops and throat lozenges as a kid. Now that I have kids, I pay extra attention to ingredients, and I've found that most store-bought cough drops and throat lozenges are full of undesirable ingredients.
So I decided to make my own DIY cough drops. Along with honey, which is soothing to the throat, these DIY cough drops also use lemon, thyme and slippery elm bark as main components.
Both lemon and thyme can help with coughs. Slippery elm bark is an expectorant that's also great for coating dry, irritated throats that are left sore from coughing.
It's a relatively easy process to make DIY cough drops, but it does take time and patience. You have to take your time to make sure the honey doesn't scorch. If you burn the honey, you will have to start over, so be patient!
It's better to lower the heat if you fear scorching the honey, and allowing the process to take longer. Trust me, when I've tried to rush the process, I have scorched the honey and nobody would touch my DIY Cough Drops! If it starts to smell like burnt marshmallows, that's the honey scorching.
Don't worry, it's not hard as long as you're patient. You should get about 24 cough drops from this recipe, give or take a couple. Just store them in the fridge so you have them ready when you need them.
Are you ready to try your hand at my Soothing Lemon Thyme DIY Cough Drops? Here's the recipe. Be sure to let me know how it turned out for you!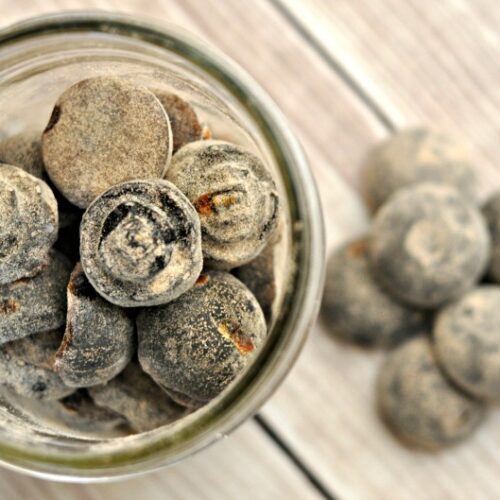 DIY Cough Drops
Learn how to make DIY cough drops in this home remedy tutorial.
Print
Instructions
Add the filtered water, thyme and lemon zest and lemon juice to a medium sized sauce pan, and bring the combination to a boil. Do not use a small sauce pan or you may have trouble with the process.

Once the water has come to a boil, cover the pan and remove from heat. Allow the pan to sit undisturbed for about 30 minutes so the thyme and lemon peel can fully steep.

Strain the thyme and lemon zest from the liquid using a fine mesh strainer.

Add the honey to 1 cup of the lemon-thyme herbal infusion in your medium-sized sauce pan and bring the mixture to a boil, then reduce the heat to medium. You'll need to stir constantly until the temperature reaches 300 degrees F (hard-crack stage). It should take about 30 minutes to reach this point. You can test to see if it's done by putting a drop of the mixture into a cup or bowl of ice water. If it immediately hardens, it's done. Living at a high altitude water boils at a different temperature, so this is how I tell when my DIY cough drop mixture is done.

Once it's done, immediately remove the pan from heat and stir until the bubbles dissipate. Pour the mixture into your silicone molds. You'll want to do this ASAP so that the mixture doesn't harden in the pan.

Allow the cough drops to cool completely. This could take a few hours.

Once your cough drops are completely cooled, coat them in slippery elm powder to boost their soothing power and keep them from getting sticky in storage. I keep my DIY Cough Drops in the refrigerator to keep them nice and hard, and so they don't stick together. You can wrap them in wax paper if you don't want to refrigerate them.