Have you been asking yourself, "Does essential oil quality matter?" You'll want to read this article – because the answer is yes, essential oil quality does matter.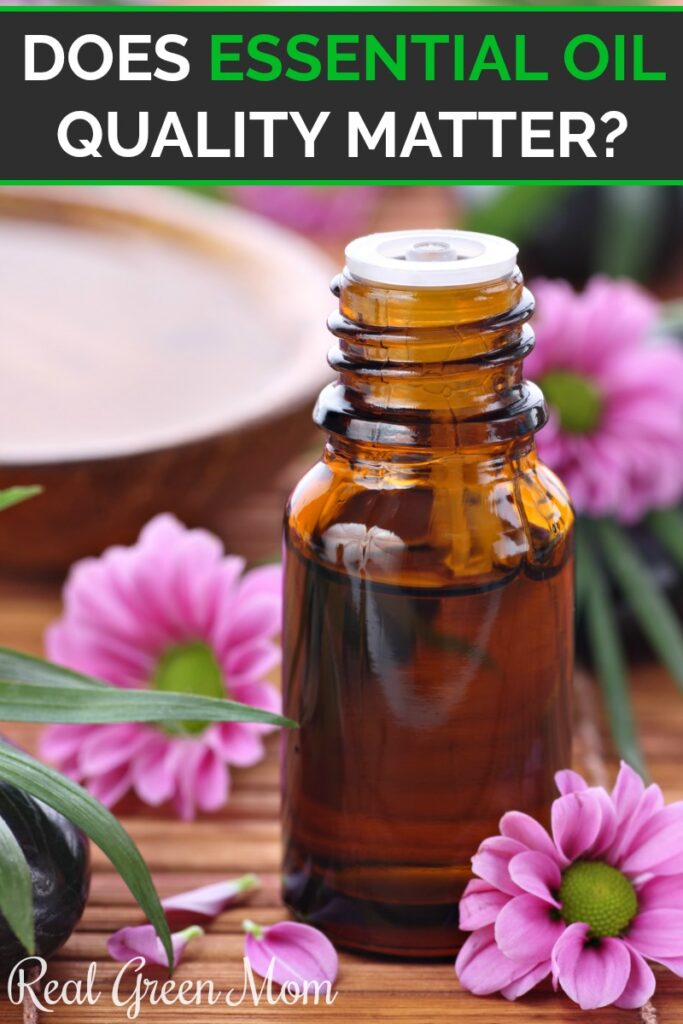 Essential Oils have become quite a trend these days. Since they've started gaining popularity, many brands have popped up online and in your local stores. It can be very confusing to try and decipher what you are really getting just by reading the labels and the buzz words on them.
One important thing to know is that essential oils are in no way regulated by the FDA and have no quality control guidelines in place. What this means is that companies can put various fillers in their essential oils without listing them on the label. So even if the label says "100% PURE," "THERAPEUTIC GRADE" or "CERTIFIED," it is referring to the essential oil and not the fillers, so you don't totally know what you're buying. The bottle could contain 10% "PURE" oils and be labeled as "PURE."
If you are buying essential oils to make safer, more natural choices, then knowing your essential oil company really matters. There are many factors involved in the entire process of producing essential oils, but here are the 5 most important factors that affect essential oil quality.
1. Sourcing
The origin of the oils matters. Where a company sources their oils from is a big deal because the terrain, soil and climate make a huge difference. You want your oils to come from their indigenous regions, where they grow the best so you get the most effective oil possible. The natural chemistry of the plants will vary, and that is normal. There is an art to growing and distilling oils, so it is good to know where they come from and understand the processes the company you choose uses.
In addition, if a field the plants are grown in is affected by chemical sprays, it can affect the chemistry of the plants. Things like the way they are distilled, at what temperature and also whether chemicals or toxic solvents are used in distillation can really affect their potency and purity. You want your oils to not only be pure from chemicals, but also to be potent so you can get the most use for your money.
One to two drops of an oil per use should be all you need at a time if you're using a quality oil.
2. Supplier
It is good to know where a company gets their oils from. Choosing a supplier known for quality is important. I spent a lot of time researching and experimenting with different brands before switching to Rocky Mountain Oils.
There can be many varieties of a single plant. For example, there are different varieties of plants like lavender. You want to make sure the species used in the essential oil you're using is the best one for your needs, meaning it contains the right combination of compounds. Not all plants are created equal.
A quality essential oil company has good relationships with its growers and distillers. They should also have flexibility in finding new essential oils sources in case of a bad harvest one year. You should be able to easily find out more information from a company about the suppliers of their oils. If you can't, I would steer clear of them.
3. Quality
The overall quality should be a pure therapeutic grade oil. Don't just rely on the label though – really get to know the company. There should be many tests performed on its purity, potency, and authenticity.
One "test" you as a consumer can do at home is the aroma test. A high quality oil will not have an odor that is anything other than a pure, sweet one. If you instantly feel a headache coming on at the scent of it, it is likely toxic in some way. That oil should go directly in the garbage. Don't waste your money on low cost oils – you do get what you pay for.
If you cannot find the information on how many tests are done or get any results in writing on a company's processes, then you will want to look to another essential oil provider.
4. Authenticity
As previously mentioned, the regulation of essential oils is extremely limited, so the standards are minimal as far as what is required of suppliers. Because of this, some of the terminology that is used frequently on labels has become more of a marketing ploy than actual proof of what is inside the bottle.
To see the words "Therapeutic Grade" on a bottle of oil really doesn't have the meaning you would think it should have when it comes to essential oil quality. It should mean true essential oil quality, but in reality, it's just not true. Sourcing that has been compromised is allowed because of this, and additives are also allowed. To get a true level of purity that will benefit your body, you need the purest form of the oil.
Some of the bigger companies are using terms like "Certified Pure Therapeutic Grade" to try to distinguish themselves. These are marketing terms, not actual certifications, so don't get fooled.
5. Process
The plants used to extract the oils should be of the highest quality possible, which means that much care should be given in the entire process from start to finish. A grower, harvester and distiller should be honest, and very familiar with their plants in terms of how long to grow them before harvesting in order to get the best potency out of them, and not harvesting before they are mature.
In distillation, it takes a slow, gentle process to maximize the best quality in the oils and that process should be done with extreme care. Many of the newer companies or ones who are smaller do not have direct access to their growers or their distillers, so choosing a reputable company who has good relationship with those people makes a huge difference in the quality of the oils. If they cannot test the oils they purchase for quality, then that company truly doesn't know what goes in their oils or their blends.
These are just a few factors in determining essential oil quality. The lesson is, get to know the company you're purchasing from before giving them your money.