Are you wondering if it's time to move your child from a car seat to a booster seat? Learn how to decide whether your kid is ready or not.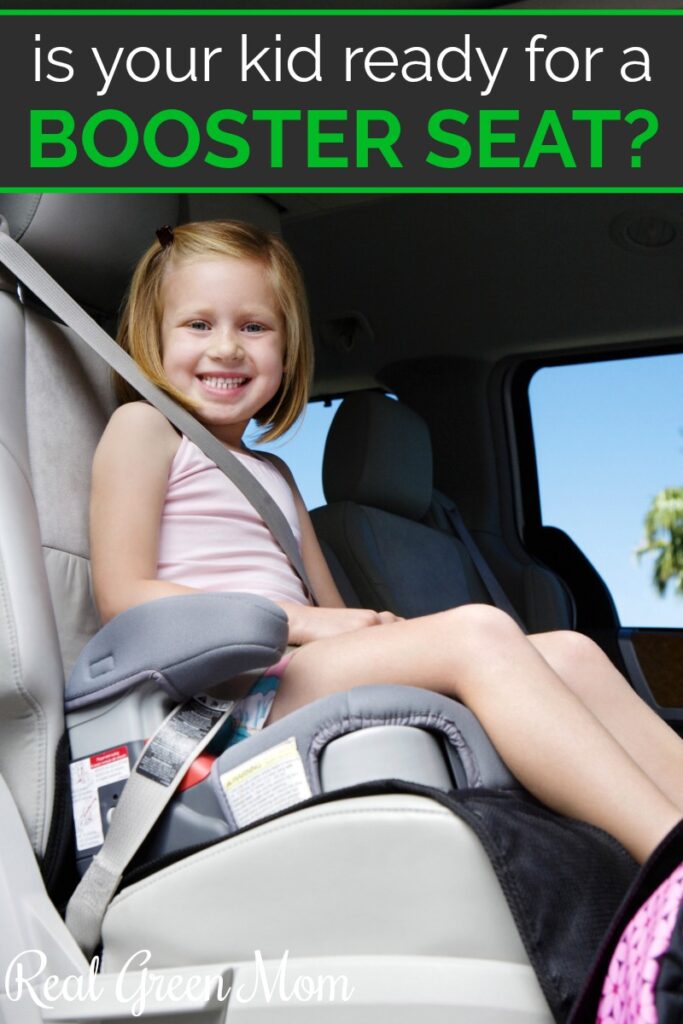 I have always believed that it's vitally important to make sure our children are as safe as possible. That includes making sure they are safe in the car. The subject of car seat safety is one that can elicit great concern from parents and car seat safety advocates.
We have always had very safe car seats with high weight limits, and have taken steps to ensure our kids are as safe in the car as possible. I always thought that they would stay in their car seats until they grew out of the height or weight limit.
When Zoë started school, I began to rethink whether I wanted to allow her to move into a booster seat. Between field trips (where the parents drove the kids), play dates and moving her seat between cars all the time, lugging around her Britax Frontier became a bit of a chore. It was even too bulky to fit into some of the vehicles that volunteered to drive to field trips, so she was put in old booster seats belonging to the school instead.
I held out as long as I could, but for her 6th birthday, I finally broke down and bought her a booster seat. At first, we only used it for short trips to see how it would work for us. Within a few months, she was in the booster seat full time. As hesitant as I was to move her over, the change has been a positive one for us.
3 Factors to Consider Before Moving Your Kid to a Booster Seat
1. State Laws
You will need to check with your own state to verify the laws where you live. Here in California, there isn't a law about the weight required to move to a booster seat – only that children under 8 years must be secured in the back seat by a car seat or booster seat.
2. Manufacturer Recommendations
Each booster seat will have a set of guidelines for its use. Most of them state a minimum of 40 pounds and 4 years old, but you will need to check the manufacturer recommendations for the seat you're looking at. For most children, 4 years old is far too young (see Maturity Level below).
3. Maturity Level
Even if you child meets all of the legal requirements to sit in a booster seat, they also need to be mature enough. They need to be able to sit still in their seat, without moving around a lot for a a booster seat to be safe. If they fall asleep on every car ride or can't sit still for very long, then they aren't ready for a booster seat. Most kids have the maturity level to sit in a booster seat somewhere between the ages of 5 and 7.
Choosing a Booster Seat Style
There are two main types of booster seats. High back booster seats and backless booster seats.
High back booster seats
High back booster seats are more often recommended because they remind your child to sit up properly and are more comfortable if they fall asleep. However, if your child is still small enough to for their harnessed car seat, it's better to keep them in a car seat than to move them to a high backed booster seat.
Backless booster seats
You should only move kids to a backless booster seat who meet all of the above criteria. Since we were looking for convenience and Zoë did meet all of the criteria for moving to a booster seat, we went with a backless booster seat. It's a lot less to lug around than a car seat or high backed booster seat.
Do Boosters Need LATCH Attachments?
Most booster seats do not have LATCH attachments, which is fine. We chose a booster seat with LATCH connectors since it keeps the seat in place in the car, even when she isn't riding in it. Otherwise, it slides back and forth in the back seat when we go around turns.
After a lot of research, we decided upon a Graco Backless Booster. It's very affordable, and worked very well for us. It has a cup holder and a secret storage compartment in it (that compartment on the right can be pushed into the seat to give extra space in the back seat.
It only take a minute to install the LATCH connectors, and we don't have to worry about it flying around the car around a sharp turn or abrupt stop. I highly recommend this backless booster if your child is ready for a booster seat.
Even if your child is 8-years old, they may still need to sit in a booster seat. In order to move from a booster seat to a seat belt, they must pass the 5-point test.
When to Move a Child to a Booster Seat
In addition to following state law and manufacturer guidelines, your child must also meet the following criteria before riding in a booster seat.
Sit all the way back against the vehicle seat.
Sit with knees bent at the edge of the vehicle seat and feet on the floor.
Have the shoulder belt fit evenly across their collarbone and sit flush with their torso.
Have their lap belt low on the hips, touching the tops of their thighs.
Stay comfortably seated this way the entire ride.
While harnessed car seats are the safest choice, there are many instances where a high back or backless booster seat just makes sense. I hope this guide to deciding when to move your child from a car seat to a booster seat was helpful in making your decision.