Learn how to make the best homemade melt and pour activated charcoal soap bars in this easy DIY beauty recipe.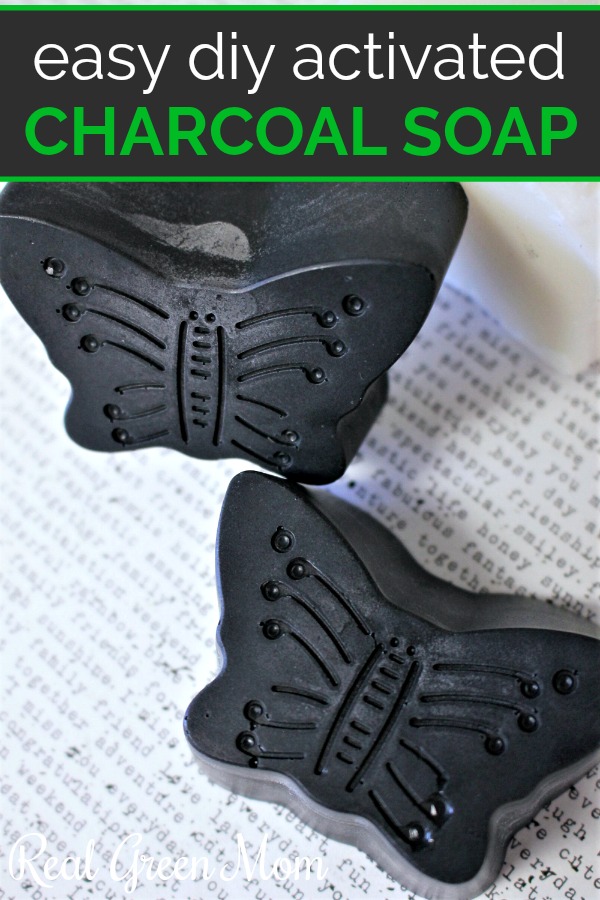 Using charcoal in body products has so many benefits. It's a wonderful for detoxification and contains antioxidants so it's great for the skin and more. If you haven't familiarized yourself with it, you should.
If you can't find charcoal powder locally, you can order activated charcoal online for a reasonable price and it lasts a long time… you don't need a whole lot of it at once.
It comes in a powder form and although it can get messy if you're not cautious, it is well worth it.
In this recipe for DIY Activated Charcoal Soap Bars, it's our featured ingredient. It's used in this beauty recipe for the skin health and to act as a natural detox. I have also added two citrus oils for their cleansing abilities and uplifting scent.
I love using this uplifting charcoal soap in the mornings, especially on those days when I'm having trouble getting going. The citrus perks me right up! I hope you enjoy it as much as I do.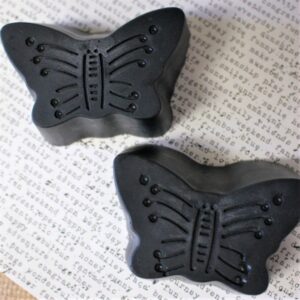 How to Make Activated Charcoal Soap Bars
This DIY melt and pour activated charcoal soap bar recipe uses the best natural ingredients to make a homemade face and body soap without lye.
Print
Instructions
Start by measuring out your melt and pour soap base. If you are using larger molds (closer to a full-size bar), you may need slightly more of the shea butter soap base. The best way I have found to gauge how much to use is to chop up the soap first into small square pieces and then set them into the molds to see how much you need (as shown). It ends up being about 10 ounces for 4-6 of the smaller molds or 2 for the larger molds. It is good to go ahead and leave your molds sitting out at this point too, so that they are ready to fill.

Once you've gotten your soap all chopped and measured out, place the soap base into a double boiler, heating over medium and stirring until the soap is melted and smooth. If you don't have a double boiler, you can use the glass measuring cup or bowl fitted into a pan filled with hot water.

Next, go ahead and measure out the jojoba oil and add it to the soap base in the double boiler. Stir until well combined.

Remove the pan from the heat and allow it to cool slightly. You can now add in the essential oils. Do this carefully and slowly. Both of these oils are very runny, being steam distilled from the peel and if you tip the bottle over fully, you'll easily pour twice the drops you intended to.

Make sure the soap mixture is still fully melted (if it's not, place the double boiler back over heat until it is). Measure out and add the charcoal powder to the soap mixture, stirring it well to work the powder in all the way. Be sure to get down into the sides and bottom of the pan or measuring cup and be sure the whole mixture turns the dark gray color throughout before you stop stirring.

The soap mixture should still be fully melted and smooth (if it's not, heat it again). Unless you see any lumps in it, it works best not to stir it now, but just to go ahead and pour it. When you stir, you tend to create lumpiness that has to be re-melted.

Pour the base into the molds slowly to just below the top edge and to keep them smooth, be sure not to touch or move them unless you have to. At this point, all that you need to do is to allow them to fully cool off. Leave the soap out on the counter and give it about 45 minutes to an hour to cool. This timing will depend on the thickness of the molds and the temperature in your home.

Feel the bottoms to see if they are still warm in the center, and if they are cooled, then you are ready to pop the soaps out of them. Carefully pull the corner of the mold with one hand, while pulling the soap out with the other and they normally come out with no problems, nice and smooth.

Once you've done that you are ready to use your soap.
Notes
To use activated charcoal soap bars, simply lather up in the shower like you do with any other soap bar. Be sure to rinse all of the charcoal off your skin thoroughly.