If you are looking for a natural way to regulate your menstrual cycle, you'll be interested in reading my story of how maca root completely changed my life in only 30 days.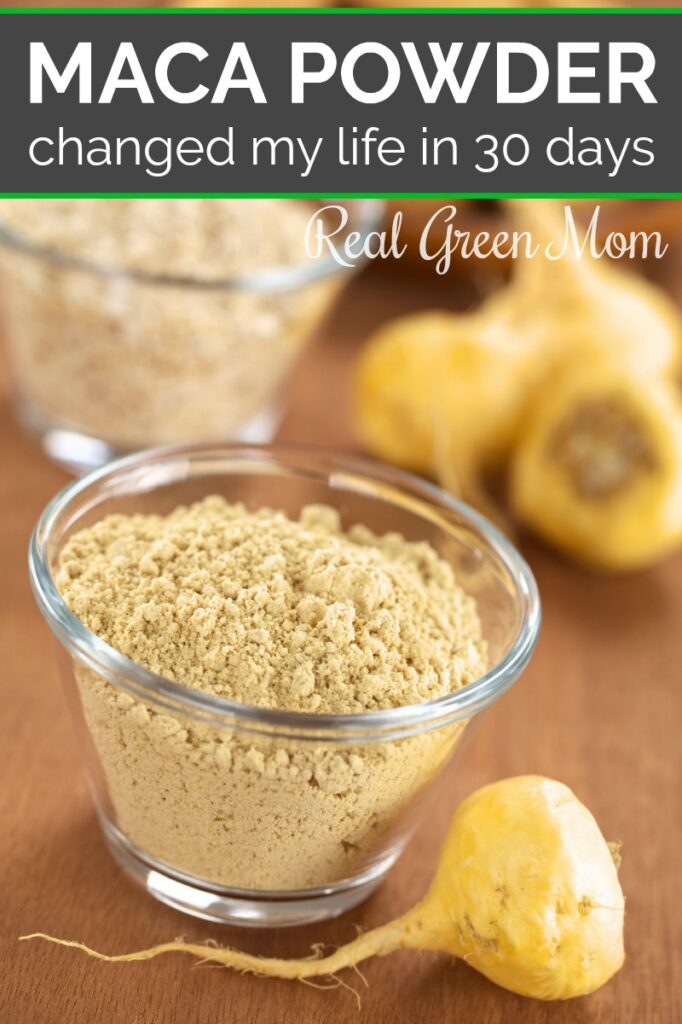 You might be wondering how a simple food like Maca root powder could change my life in a mere 30 days.
A few years ago, I was having some serious hormone balancing problems after I weaned my youngest daughter. I got my period back and it was coming regularly. Unfortunately, what "regularly" meant in my world was every 17 days.
I kept thinking it would pass. That it was just a transitional phase while my hormones settled from the years of being pregnant and breastfeeding. But it just wouldn't stop. Every 17 days like clockwork – for a year.
I couldn't take it anymore. I had the doctors test my hormones and they said they were just fine. My body was saying otherwise so I started researching natural ways to balance my hormones.
Taking Maca root powder kept coming up as a recommendation. My doctor had not heard of it before, but said to go ahead and try it.
So I ordered some Maca root powder capsules and started taking them. I was shocked when my next period didn't come for 28 days. And then again the month after that – and the month after that – and every month after that. I was astounded that a simple food like Maca could completely turn my cycle around almost immediately.
Three years later and my cycle is still coming every 27 days. I have had to go back and take maca a few times. I typically do that when I notice my cycle starts to feel off for me.
If you aren't familiar with Maca, it's a root similar to a turnip that grows at very high altitudes – above 13,000 feet – in the Andes mountains. It has been used by natives for thousands of years as a staple of their diet to help enhance fertility, improve stamina and to provide extra nutrition.
Some reported benefits of taking Maca root powder include:
Alleviate anxiety and depression
Enhance energy, stamina and strength
Boost fertility
Improve libido
Improve common issues associated with menopause
Build lean muscle
Improve bone density and health
Improve prostate health
Support radiant skin
If you've been having hormone balancing issues or would like to experience any of these benefits, you may want to consider taking Maca root powder like I do.
How I Take Maca Powder
While I absolutely prefer to just buy maca powder capsules, it's so much more affordable to encapsulate my own maca powder, so I do that often.
Buying the maca powder loose is also great because you can easily add it into smoothies and protein shakes too. You can add it to tea and bake it into goods. There are so many great options.
I haven't tried the Maca liquid extract before, but that would be a nice way to take it too. I love that there are so many options for getting Maca root into your diet.