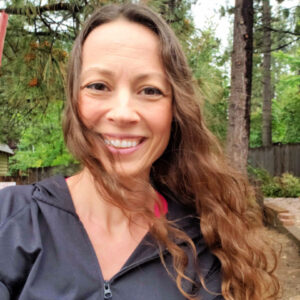 Hi, I'm Chrystal, the founder of Real Green Mom. If I look familiar, you may know me from my main blog, Happy Mothering, which has been around since 2009.
Real Green Mom is kind of like the little sister of Happy Mothering…. the green little sister. I started this blog as a place to share more of my interests in natural living and real food.
You'll find researched articles here well as recipes and DIY tutorials for living more naturally and in tune with the Earth.
How I Got Into Green and Natural Living
I've always been a warrior of the Earth. It started at Girl Scout camp when I was 11 where I learned the principle of "Leave no Trace," and really took it to heart.
As a kid, I talked my parents into recycling. I made sure all of our plastic soda rings were cut down so dolphins and fish wouldn't get tangled up in them.
I would regularly organize the neighborhood kids to pick up trash and started volunteering in my community in high school. Making choices that are good for people and good for the Earth has always been so important to me.
So naturally, after graduating from Pepperdine University with a BA in Public Relations with an outside concentration in Business Administration, I started seeking a career that would help in some way.
A Career that Led Me to Medical Technology
I worked various marketing and sales jobs to build up my experience, then I landed my dream job as a Marketing Communications Specialist at Cardinal Health in their clinical technology division (which was later spun off into the tech company CareFusion, which was later purchased by BD – the medical industry is all connected!).
I absolutely loved working there because patient safety was what we were focused on and that really fell in line with my passions. I really honed my skills in medical marketing, research and writing and was promoted multiple times into management.
Every month, I read stacks of medical journals scouring them for facts and figures that we could use for our company. I interviewed countless nurses, pharmacists, IT people and other important people at hospitals about their patient safety initiatives and how our technology fit in.
Pharmacists, nurses, and other clinicians were flown across the country to participate in the messaging clinics I put on. In these intense sessions, we'd spend a week or so together mapping out a hospital's workflow, then identifying safety gaps we could help address. I learned so much from working with such amazing healthcare professionals!
For years, I touched pretty much any marketing material or medical journal article that came out of that company. I even edited the behemoth document that we submitted to the U.S. government when the Affordable Care Act was being established.
Over time, I became known as, "the keeper of the word," at Cardinal Health because my research and writing was so well trusted. And because I understood the science behind things so well.
Becoming a Mom Redirected My Passions
After becoming a mom, I decided to leave that career behind. It didn't want me to leave though because I spent the next several years consulting not only for Cardinal Health, but for other healthcare technology companies as well.
While my skills were in demand, my interests were drifting elsewhere. I decided to use the research skills I'd developed working in medical technology to start writing about topics that are near and dear to my heart – like green and natural living.
I started writing articles about topics that were of interest to me and discovered other moms were interested in them too. And so that's what you'll find here on Real Green Mom. Content from a fellow mom who has a background in research and is happy to share that knowledge with you.
I've been so successful with blogging that I've left my healthcare career behind to focus solely on bringing the best content to my readers. And to spend more quality time with my family.
I hope that my stories and my research can help inspire your green living journey. Let's take one baby step at a time to a better, healthier life together.