Chocolate is arguably the best ice cream topping around. Our Homemade Magic Shell recipe uses cocoa powder and coconut oil to make a vegan treat even the kids will love!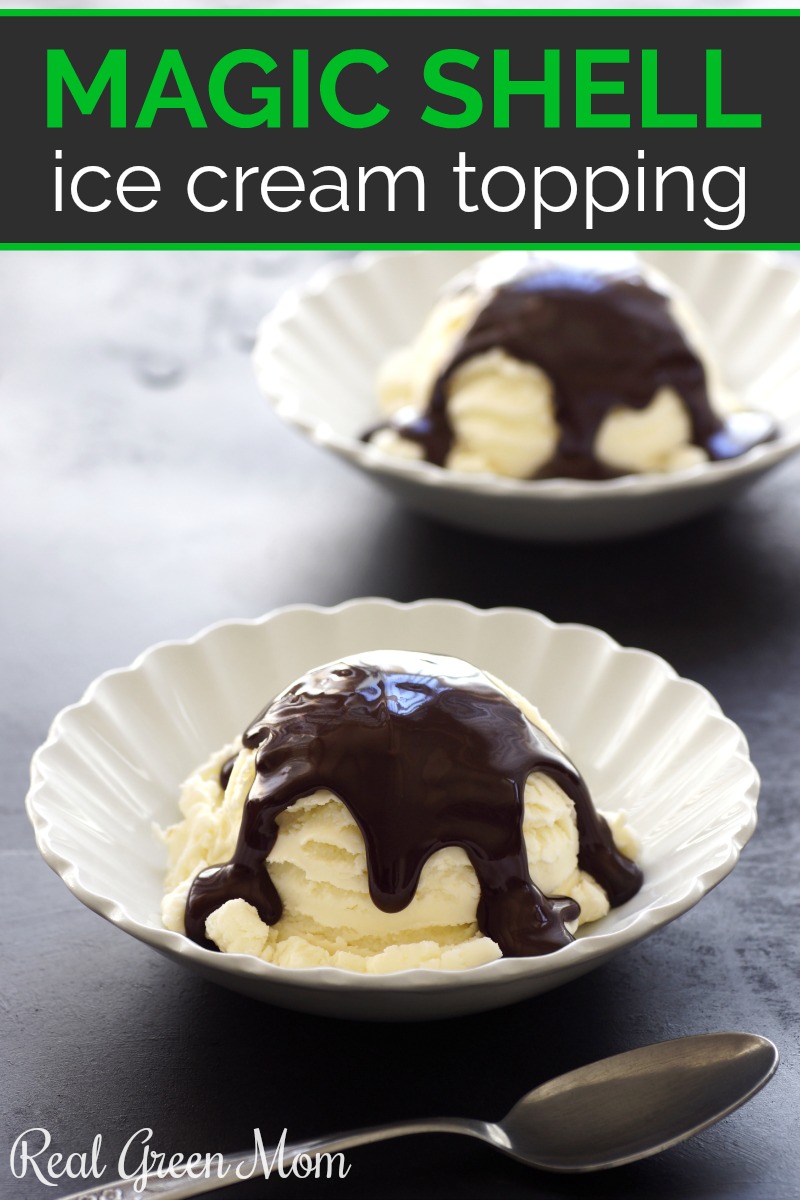 © Deposit Photos / Viennetta[/caption]
Ice cream has always been one of my weaknesses. I love the simplicity of vanilla ice cream with chocolate syrup over it – yum!
However, I very seldom buy ice cream anymore because the ingredients in nearly every brand are just horrendous. Even Breyers, which used to be my go-to, uses corn syrup as a sweetener now. Sigh.
This last trip to Vons, I noticed a new organic brand of ice cream and the ingredients were surprisingly decent:
Organic Milk, Organic Cream, Organic Cane Sugar, Organic Egg Yolks, Organic Vanilla Extract, Organic Carob Bean Gum, Organic Guar Gum
I'd prefer no gums, but it's the best I've seen locally!
It was a hot day, and I thought it would be fun to get some ice cream and a movie for me and the girls to have a fun afternoon. I didn't have any luck finding a decent chocolate syrup at the store, so I decided to make my own.
I had seen recipes for homemade magic shell floating around, but all of them used chocolate chips, which I did not have on hand. I decided to experiment and make my own Magic Shell with cocoa powder and coconut oil.
It turned out perfect – very rich and flavorful and hardened right up when it hit the ice cream! It works exactly like I remember the stuff from the bottle as a kid, only with cleaner ingredients.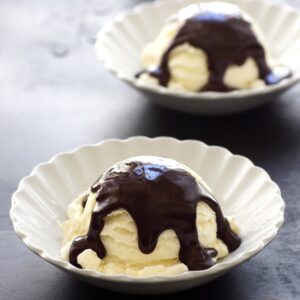 Homemade Magic Shell Ice Cream Topping
Learn how to make Homemade Magic Shell recipe using cocoa powder and coconut oil for a vegan treat even the kids will love!
Print
Instructions
Put the coconut oil in a small sauce pan and heat on low until it melts.

Add the maple syrup and stir in.

Slowly add the cocoa powder and whisk until smooth.

Add the vanilla and sea salt, then stir and turn off the heat.

Pour warm sauce gently over your favorite ice cream.

Let sit for a minute to harden and serve with a smile!
Nutrition
Calories:
160
kcal
|
Carbohydrates:
10
g
|
Protein:
1
g
|
Fat:
14
g
|
Saturated Fat:
12
g
|
Sodium:
38
mg
|
Potassium:
105
mg
|
Fiber:
2
g
|
Sugar:
6
g
|
Calcium:
18
mg
|
Iron:
1
mg