Are you searching for the best shortbread cookie recipe that melts in your mouth? Our buttery Lemon Honeycomb Shortbread cookies are an easy and creative treat that will have everyone smiling!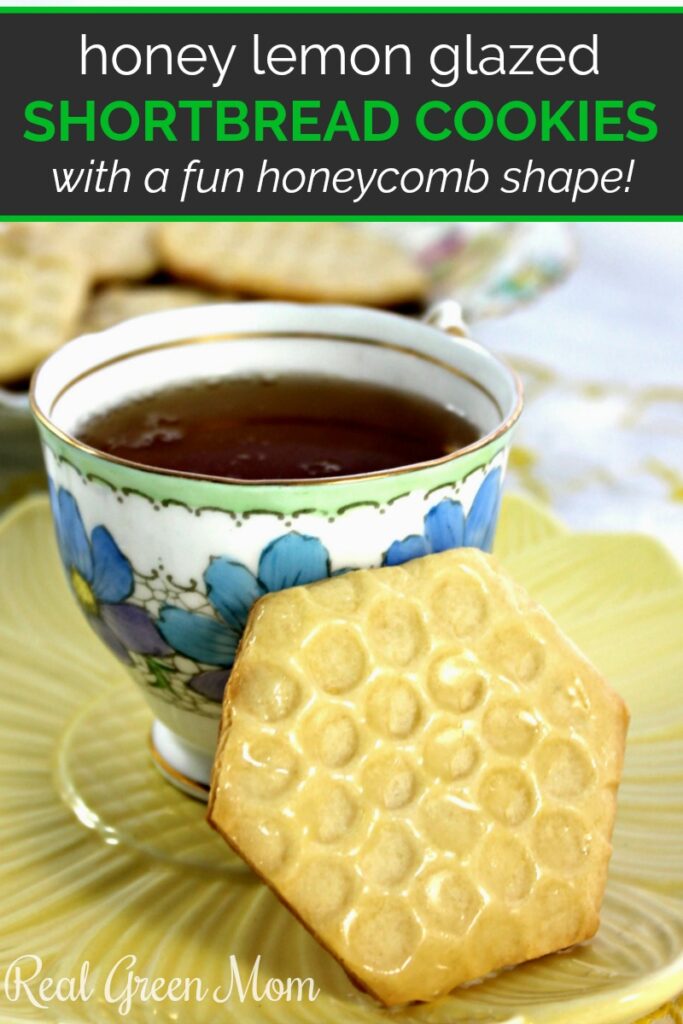 I have loved baking cookies since I was a little girl, and my daughters love baking now. As they've gotten older, they've been able to make more complex recipes with me, and they're both so creative.
We love watching the bees buzz around pollinating everything (although we don't want to get stung by a bee!), so we decided to make some fun honeycomb shortbread cookies. Bubble wrap is pressed onto the cookie dough to create a honeycomb effect, and the use of a hexagon cookie cutter (or a cardboard hexagon template and sharp knife) will create fun honeycomb cookie shapes that fit the theme perfectly.
A thin coating of sweet lemon glaze adds a final touch, giving the appearance of honey in the comb. The bright lemon flavor and delicate texture of these cookies will make them a favorite with family and friends.
Serve them with afternoon tea, nibble on them as a special treat or wrap them up to give as a gift. No matter which way you serve them, these tender lemon honeycomb shortbread cookies will be a huge hit! If you're looking for a gluten free recipe instead, try our Gluten Free Salted Caramel Shortbread Cookies.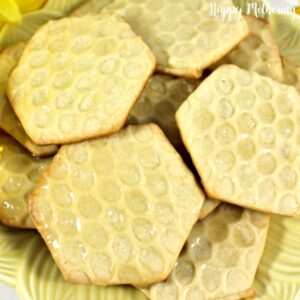 Lemon Honeycomb Shortbread Cookies
These buttery Lemon Honeycomb Shortbread Cookies melt in your mouth and go great with coffee or tea.
Print
Instructions
In a large bowl (a stand mixer is very helpful for this stiff dough) combine butter and powdered sugar. Beat well.

Add honey, egg yolk, 1 teaspoon lemon juice and lemon zest. Beat well until thoroughly combined, then add flour, cornstarch and sea salt. If using stand mixer, switch to your dough hook. Mix until combined. This will make a very stiff cookie dough.

Work with half of the dough at a time on a generously floured surface. Form a ball and roll it on the flour to coat the dough, then roll out approximately 1/4-inch thick.

Cut cookies using a hexagon cookie cutter. Any scraps can be set aside and rolled together all at once. (There should be few scraps since the hexagons fit neatly together.)

Working with one cookie at a time, press a clean piece of small bubble wrap onto the cookie with the palm of your hand. Remove bubble wrap and use a thin spatula to place cookie on parchment covered baking sheet. Repeat, leaving about 1/2-inch space between each cookie.

Note: you can also press a large sheet of bubble wrap on the rolled dough before cutting with the hexagon cutter, but it may be harder to get a consistent design.

For best results, place baking sheet in refrigerator and chill for 30 minutes.

Pre-heat oven to 350 degrees F, then bake for approximately 10 minutes, or until the edges are just beginning to turn golden brown. Remove from oven and cool completely on cooling racks.
Glaze Instructions
In a small bowl combine powdered sugar, water, lemon juice and simple syrup. Whisk or stir until well blended. Add a few drops of vanilla to achieve a honey color. Glaze should be thin; add more hot water if necessary.

Brush a very thin layer over cookies using a pastry brush and allow glaze to air dry 1-2 hours before storing.
Notes
This recipe makes approximately thirty hexagonal 3-inch cookies, measured from corner to opposite corner. If you don't have a hexagon cookie cutter, cut a hexagon out of cardboard or card stock and use it as a template to cut around with a sharp knife.
Nutrition
Calories:
148
kcal
|
Carbohydrates:
22
g
|
Protein:
1
g
|
Fat:
6
g
|
Saturated Fat:
4
g
|
Cholesterol:
23
mg
|
Sodium:
75
mg
|
Potassium:
17
mg
|
Fiber:
1
g
|
Sugar:
10
g
|
Vitamin A:
198
IU
|
Vitamin C:
1
mg
|
Calcium:
4
mg
|
Iron:
1
mg