You can thorow an eco-friendly baby shower for a boy or girl. Get ideas to plan your party themes, decorations, games, food, favors, invitations and more.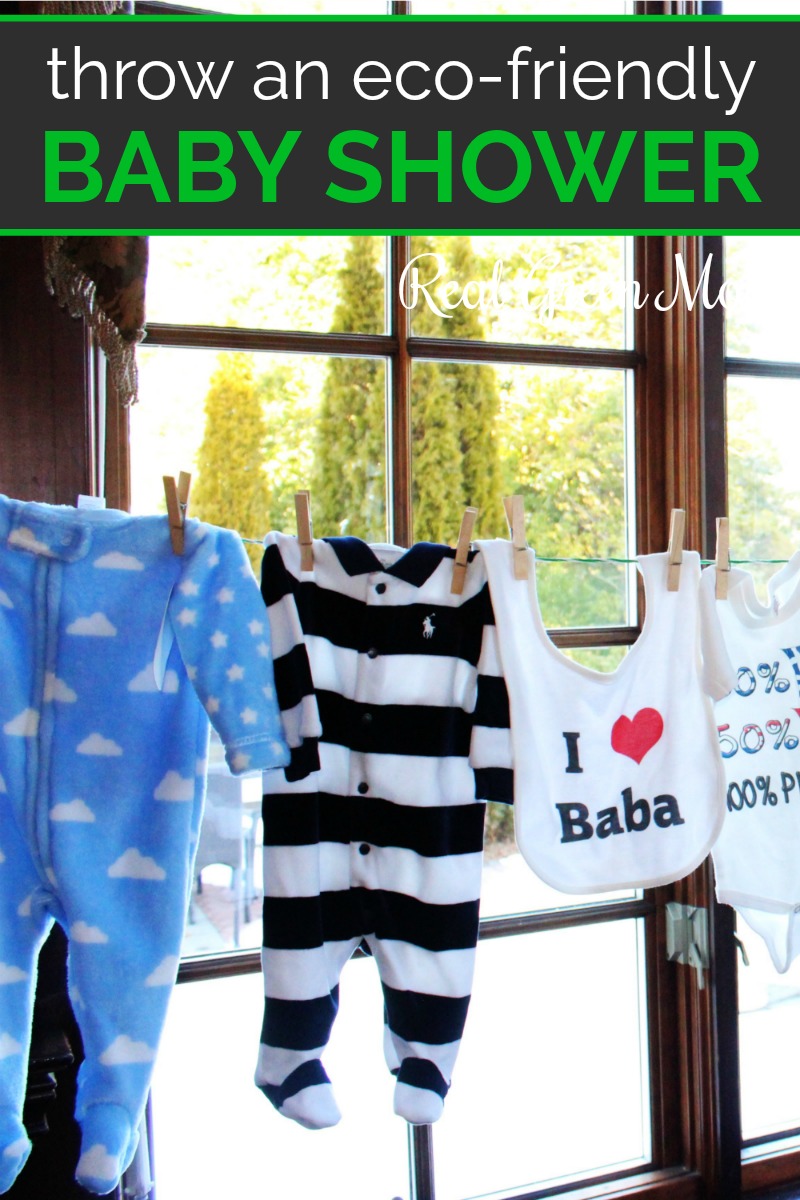 With a growing number of moms wanting a greener, cleaner future for their babies, it only seems right that we would begin our babies' lives with an eco-friendly baby shower.
Pregnancy Today recently interviewed Leslie Quigley, a determined green mom who recently organized such a green gathering:
"Moms have the ability to be influential with their dollars and their decisions," she said. "Having an eco-friendly shower sets a standard and an example. As a mom, you have the opportunity to lead the way in helping save the environment and influence other moms to do the same."
Lead the way with the following tips to make throwing an eco-friendly baby shower painless, paperless & unforgettable.
Personalized e-vites or videos are charming, hassle-free and paper-free options to sending actual cards through snail mail. Check out Evite.com or Pingg.com for ideas. If you're looking to invite somewhat Internet-challenged Grammy, there are plenty of eco-friendly invitations at specialty stores like WomanCraft.net. Just look for 100% recycled paper and those made from sustainable sources like bamboo.
Use ceramic dishes from your own home (or check out your local thrift store) instead of buying disposables. They end up in the landfill where they take eons to biodegrade. Plus, if you're using your own dishware or buying things that are already in circulation, you're sparing the earth all the transportation and tree harvesting (and the monstrous amounts of CO2 offsets) that come from buying new things.
For decorations, go for recycled and biodegradable items; it can be as simple as fresh flowers from the farmers' market or wheatgrass.
Don't buy conventional party decorations that will just end up in the trash after the shower. Instead, decorating can be as simple as stringing a clothesline (complete with baby clothes and toys pinned to it) across your front door. Be creative, and try to use things that Mom can take home afterward!
For place settings, you can go one of two ways: use recycled paper cards or buy plantable cards from a specialty store (they contain seeds in the paper so they can grow in a garden). If you do the latter, you can invite everyone to plant their cards in your garden at the end of the party.
For a simple gift, you can buy a few packets of wildflower or herb seeds from your local gardening store and pour them into individual baggies (fabric, not plastic!) and tie them with twine.
Instead of wrapping gifts in conventional paper, tissue paper and ribbons that'll just be thrown away afterward, consider alternatives like a baby blanket, a cloth diaper (complete with reusable diaper pins), a bandana or a reusable fabric bag.
Instead of a guestbook, find a onesie at a thrift store or buy one made out of organic cotton or sustainable sources. Have the guests write on it with fabric pens to make a keepsake Mommy and baby will treasure.
When it comes to the food, buy only as much as you'll need. Remember, you're not running a soup kitchen, so a full-blown meal isn't always necessary. Tidbits and a small main course or even a hearty salad could suffice. See if you can buy a nice bottle of local, organic wine at the market, too.
Try to buy the bulk of your food at the farmers' market, where you can personally talk to individual vendors to check out their methods and ethics (most farmers love to talk about their craft). Avoid getting produce from the grocery store; even if they're organic, they could be shipping in from South America or even farther away, where workers' rights aren't guaranteed and transportation leaches CO2 into the ozone. While you're at the market, pick up a few flowers to trim down and place into dishes or teacups as table centerpieces at the shower.
There are many ways to make your baby shower more eco-conscious. I hope you got some great ideas for your upcoming celebration!