Tired of filling Easter baskets with junk? Get some ideas for your DIY Easter Basket like toys and better candy choices.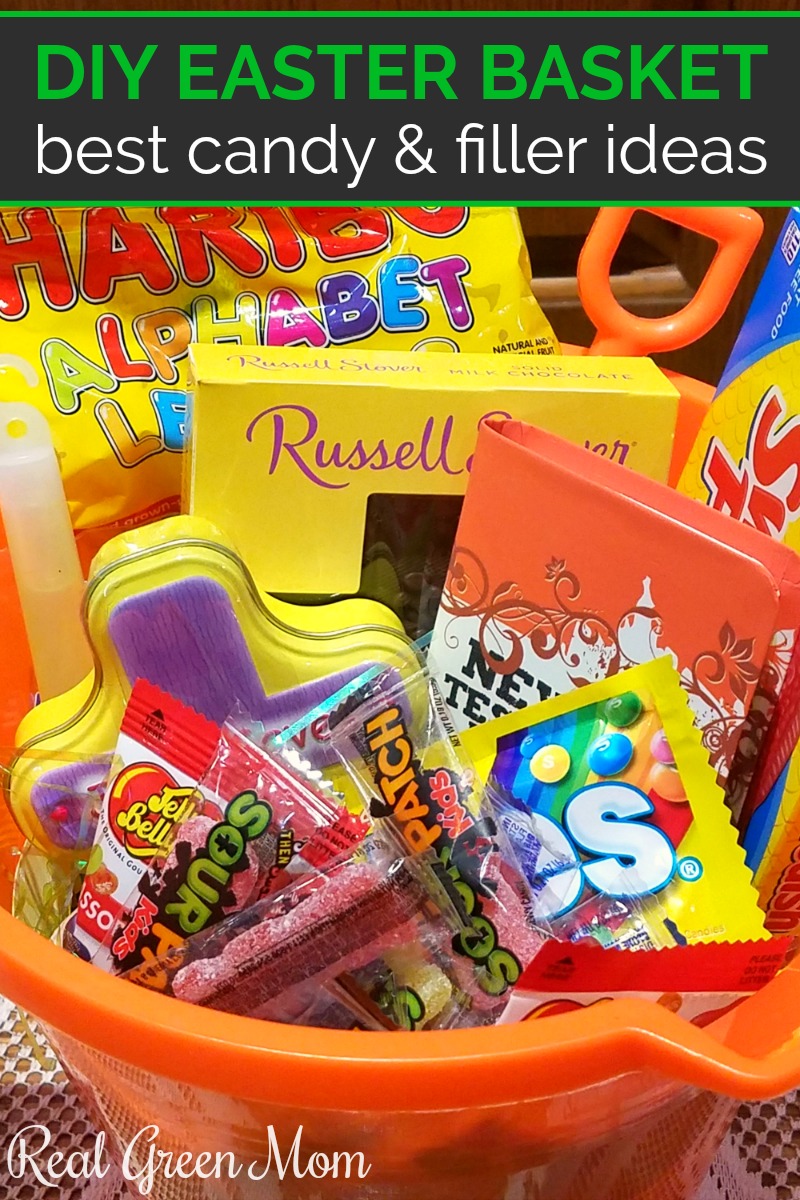 Every Easter, the girls look forward to the Easter bunny leaving them a basket of goodies to enjoy. We try to limit the amount of candy that goes into the basket and focus on fun toys they will enjoy. However, we "have" to include some candy, so I try to make better choices.
The grocery store and pretty much every store we walk into has huge displays of Easter candy, but I'm always appalled when I read the ingredients. I have no desire to load my kids up on high fructose corn syrup, hydrogenated and partially hydrogenated oils, artificial colors, artificial flavors and more – even if it is only one day a year.
If you're like us and want to give your kids some candy this Easter without all of the extra junk, here are some recommendations for you.
YumEarth Organic Candy
If you haven't tried YumEarth yet, we highly recommend them. The girls have had some of their candy in the past, but this year they'll be getting YumEarth treats in their Easter basket.
They have no artificial colors or flavors, and are made with organic fruit juice. You can choose from Lollipops, gummy bears, jelly beans and fruit snacks. The lollipops are even available in a 5-pound bag, which would be great for Halloween.
Surf Sweets Jelly Beans
Another option for organic jelly beans is Surf Sweets. In addition to being certified organic, they are also Non-GMO Project Verified. They are free of artificial colors and flavors, and also free of the top 10 allergens.
Go Naturally Organic Hard Candies
We first tasted the Go Naturally hard candies at Expo West a few years back. They have several flavors available, and they're all good.
You can choose the assorted pack, honey, ginger and honey lemon. In addition to being free of artificial colors and flavors, they are made in the USA.
Annie's Homegrown Organic Fruit Snacks
My girls love Annie's fruit snacks. The bunny fruit snacks are perfect for Easter baskets. They're made with fruit juice and are also free of artificial colors, flavors and preservatives.
Endangered Species Bug Bites
The other day, Zoë mentioned to me that the Easter Bunny always leaves them chocolate eggs. The problem with that is that this year we're trying to avoid the commercial candy from the grocery store.
When browsing Amazon for ideas, I came across the Endangered Species Bug Bites. Each chocolate is wrapped with a tiny bug card with facts about that bug, so you get education with your candy.
Unreal Candy
We have been enjoying Unreal Candy for a few years now. It's nice to have an option that is non-GMO, but that is very similar to the commercial candy brands everyone is used to.
Justin's Peanut Butter Cups
I love a good peanut butter cup, and Justin's Peanut Butter Cups are definitely better than the brand you can get at the supermarket. They're organic, fair trade and Rainforest Alliance certified. And of course delicious!