Are you looking for the best eco-friendly period tips? In this guide, you'll learn about natural feminine hygiene products, menstrual cups, reusable pads, cramp relief ideas and more green hacks for your monthly cycle.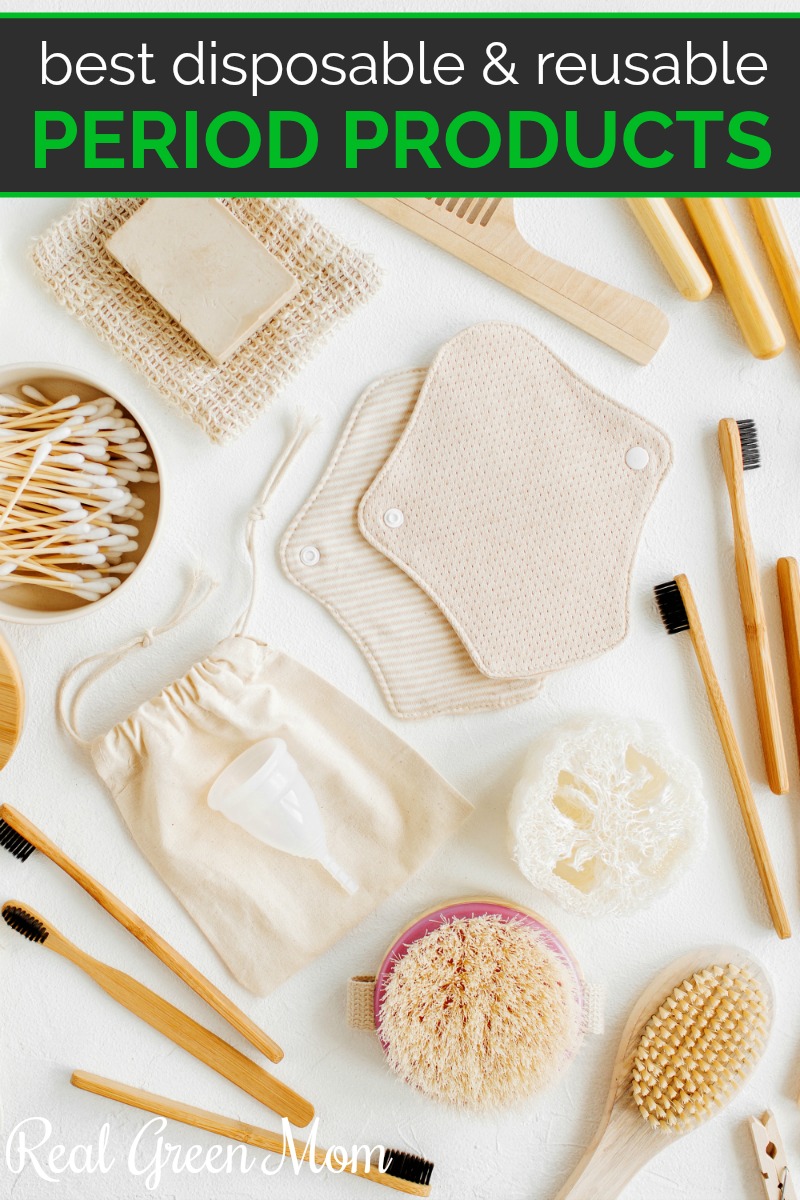 One thing that can bring women together in an instant is talking about their menstrual cycle. It's something we can all connect on and commiserate about. It's no wonder the idea of the "red tent" has been around for eons.
Something I find myself being asked about more and more is how to have an eco-friendly period. People are becoming more aware of the impact of their actions, and disposable pads and tampons undoubtedly have an impact on our environment.
One woman, on average, will use 11,000 tampons in her life. Every year, around 12 billion disposable pads and 7 billion tampons are thrown away in the United States alone. Those are startling numbers. Because even though many disposable feminine products will eventually break down, many of them could take 500 years to decompose.
If enough of us change our habits, we have the power to dramatically change that statistic. Over the last several years, more and more eco-friendly period options have come out. It's becoming easier and easier to make greener choices.
However, I know it can be confusing if you're new to the topic and not familiar with everything just yet. Like, really overwhelming and confusing.
Don't worry. I can help you understand your options.
I've been using eco-friendly period products since 2012, so I have several years of experience behind me. I started with cloth pads, then tried a few menstrual cups and now weave using organic cotton pads and tampons in more and more due to my increased personal need for convenience.
In this article, I'll cover the different types of eco-friendly period products to choose from, and the pros and cons of each. I'll also share my personal experience with various options and give some brand recommendations as well. As a bonus, I'll even share some of the natural approaches for soothing menstrual cramps that have worked for me.
If you're looking to green your period, I hope this guide is helpful for you.
Organic Cotton Pads and Tampons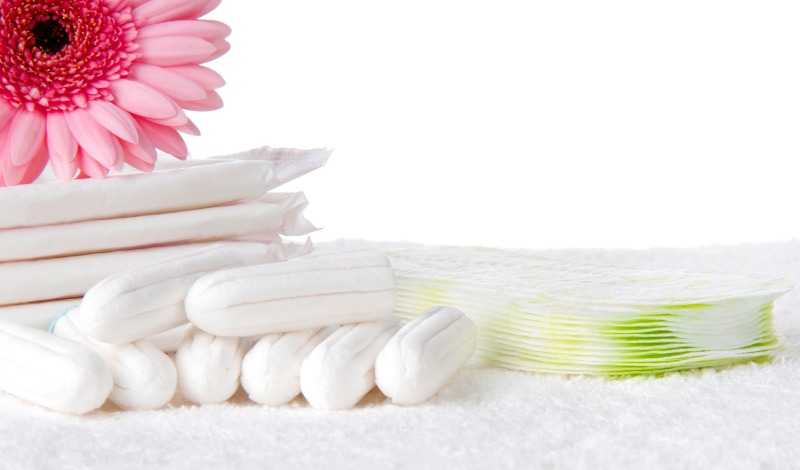 I grew up using disposable pads and tampons from the grocery store – the same major brands we see plastered on TV. It wasn't until I learned about how heavily cotton is sprayed with pesticides that I switched to organic cotton. I mean, who wants to risk potential pesticide residues touching such sensitive body parts?!
That said, when I use disposable feminine hygiene products, I do my very best to only select organic versions of those products that contain as little plastic as possible.
Pros of organic cotton menstrual products
There are a few pros to using organic cotton menstrual products. First, is the cotton is organic, so you're not exposing yourself to any potential pesticide residues from conventionally grown cotton.
Second is convenience. A lot of people just don't want to deal with the hassle of reusable menstrual products. So the convenience of having something that's disposable and safe is a better option for some people.
Cons of organic cotton menstrual products
There are cons of going with disposable menstrual products too, even if they're organic. First, you're still adding to the landfills since they are disposable. Yes, the cotton is biodegradable and will break down eventually, so that's a positive. It's important to also be sure the applicator will break down, so avoid plastic applicators (even the BPA free ones) if you're trying to make better choices for the Earth. And be mindful of just how much plastic is in the packaging.
Second is that organic cotton is more expensive than conventionally grown cotton and you'll have to keep purchasing products each month. If you're trying to save money, this may not be the best option for you. The costs have really come down over the years though so don't rule organic cotton out without shopping around.
Some organic cotton menstrual products to try
New organic cotton menstrual products are coming onto the market all the time. I've tried several different brands, and have had pretty good experiences with all of them. There are always more to try, though!
Organic cotton pads
Organic cotton tampons with applicators
Organic cotton tampons without applicators
Reusable Cloth Pads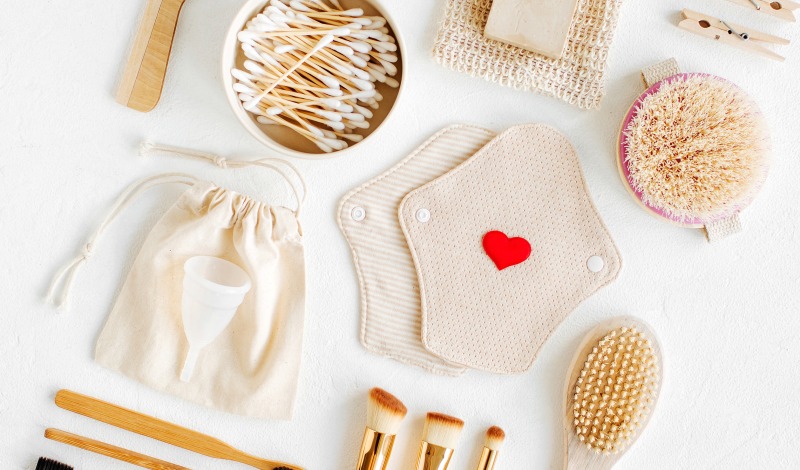 If you've decided you're done with disposable period products, then you've probably looked at cloth pads. There are so many different materials that cloth pads can be made from. You'll find everything from cotton and hemp to microfiber and bamboo.
It's super tempting to buy the microfiber pads because they're super absorbent, comfortable and work really well. However, microfiber isn't biodegradable. And no matter how well you clean microfiber, it will eventually need to be replaced. It guts me every time I have to throw microfiber away that I purchased before I knew better (like our reusable mop).
Instead, it's better to choose natural fibers like organic cotton and hemp. I say organic because, again, we don't want to risk potential pesticide residues touching our most sensitive body parts!
In addition, you'll see lots of "organic bamboo" cloth pads. Many products sold as bamboo are actually high quality microfiber, so do your research before buying anything labeled as bamboo to make sure you're not purchasing a synthetic material.
Cloth pads are a lot more modern than they used to be. They work by snapping into your underwear, and they also snap up into little bundles so you can take them on the go in a more cleanly manner.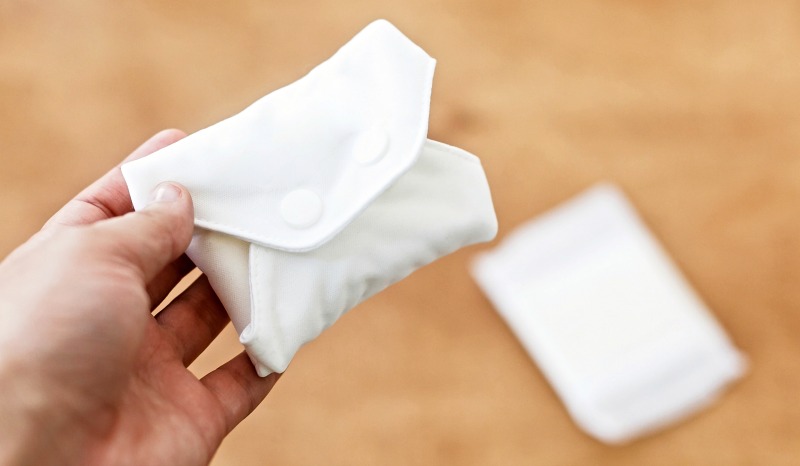 It may feel weird at first but, if you're like me, you'll quickly come to prefer reusable cloth pads over their disposable counterparts.
Pros of reusable cloth pads
The main pro of cloth pads for me is that they're reusable. I feel much better when I'm not throwing away unnecessary stuff, so I always try to choose reusable when I can.
It's better for the budget not to spend every month too! I take good care of my cloth pads, so they've all lasted about seven years. They finally need to be replaced!
Also, I find that they are more absorbent than disposable menstrual pads. So if you have a heavy flow, that's a consideration.
Cons of reusable cloth pads
The biggest con of cloth pads is the initial investment. You'll spend more initially when you buy cloth pads, but you have to remember that you'll save money over the years if you take care of them.
Another con for many people is having to change cloth pads in public. Where do you store them? What if you'll be out all day? It can seem like an inconvenience at first, but you'll eventually get used to it. And if you don't, then maybe disposable organic cotton pads are a better choice for you.
Reusable cloth pads to consider
You'll want to consider your purchase of cloth pads more closely than you would with disposable products because these are meant to last for years. So take a look at all of your options before making any decisions.
If you're going with cloth pads, you'll also need a wet bag for storing them in. I like to have a larger one for home and a smaller one for travel:
Reusable Menstrual Cups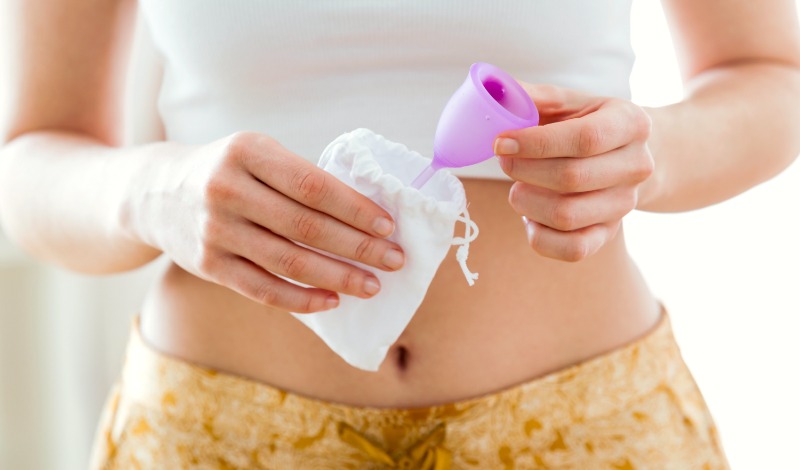 If you're more of a tampon gal, then you'll probably want to try a menstrual cup rather than a cloth pad. Unlike tampons, which absorb menstrual fluid, menstrual cups collect the fluid so you can dump it out and reuse the cup (after rinsing/cleaning).
It's kind of a strange feeling when you first start using a menstrual cup. I think the large appearance of them puts some people off, but don't be. Most people get used to them after a few cycles. And they're just as safe as tampons.
You should also know that there are usually two sizes of menstrual cups – one for before and one for after having babies. Read the reviews for each of the brands to see how the sizes compare because there is no standardization of sizes. DivaCup recently introduced a cup for girls under 18 as well.
There is also a range of flexibility of menstrual cups. Some people prefer a softer, more flexible material and other women do better with a stiffer material. You may have to try a couple different ones to find what you like.
Pros of reusable menstrual cups
One menstrual cup will usually last you for a few years (sometimes less). So you can buy one once and avoid buying disposable products for a while. It can make a serious difference in the budget, especially if there are multiple menstruating women in your home.
Tampons just don't absorb as much as cups can hold! Menstrual cups have seriously provided me with more freedom than tampons could have. Wearing a cup with a cloth pad is the only way I could leave the house on heavy days for years. And it's the only way I can get through the night on heavier days without getting up. Seriously life changing.
If you deal with period clots and can't use tampons, a menstrual cup will also be a much better choice for you. Cups catch the fluid instead of absorbing it, so they can catch the clots too.
Cons of reusable menstrual cups
There is definitely an adjustment period. I recommend wearing a cloth pad with the cup for the first few cycles. That way, you get used to inserting it to where it seals well and doesn't leak. You'll also have time to get a better understanding of how often you'll need to empty it.
In addition, many people find it difficult to change their menstrual cup in public bathrooms. It's not my favorite thing to do, but it has gotten easier over the years and I hardly think twice about it now.
Since you won't be able to rinse the cup out in most public bathrooms, you can carry disposable wipes for cleaning the cup out in public restrooms.
Reusable menstrual cups to try
It took me trying a few different brands before I found one that works for me. I've been primarily wearing a SckoonCup since 2012, and have been quite happy with it. I typically have to replace it every 3 years or so. Read my SckoonCup review.
SckoonCup isn't the only option though. Our bodies are all a bit different and we each may have different opinions on what cup is most comfortable. If you're curious what other menstrual cups are available, check out these options (and be sure to read the reviews):
Natural Menstrual Cramp Pain Relief
If you're looking to have an eco-friendly period, then you're probably also interested in natural ways to soothe menstrual cramps. I've suffered from menstrual cramps from my very first period at age 11 and I've tried all the things.
Here are some of the natural remedies that have helped soothe my cramps:
As you can see, there are so many options to consider for an eco-friendly period. Whether you choose to use, reusable cloth pads and menstrual cups or disposable pads and tampons, there is a greener option for everyone. And there are plenty of natural cramp relief options as well.