If you're shopping for the best reusable menstrual cup, you'll be interested in my SckoonCup review. I've been wearing one since 2012 and swear by this eco-friendly period product!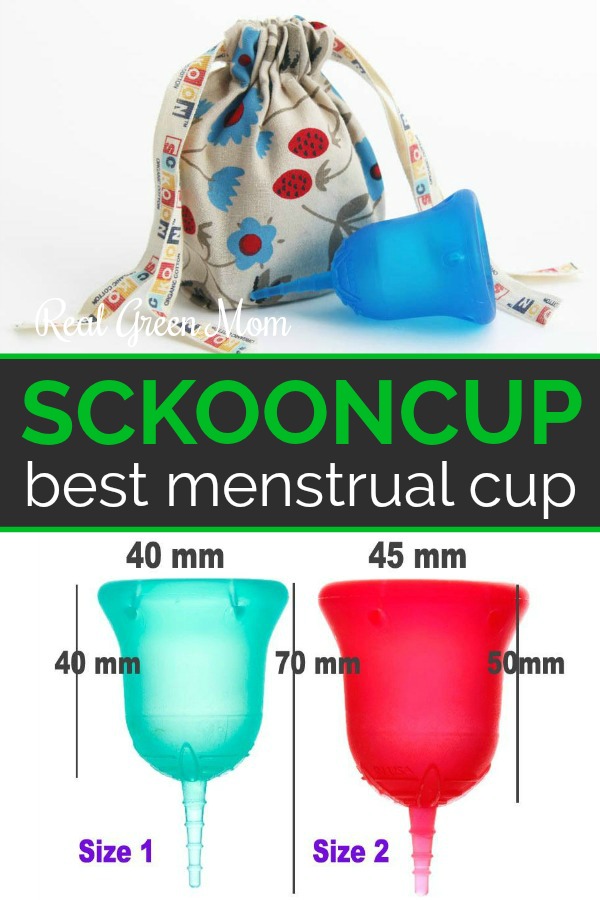 Making more eco-friendly choices in the menstrual area is a hot topic lately. Cloth pads, menstrual cups, organic cotton… where do you start?
I began using cloth pads and a DivaCup in 2012. I didn't love the DivaCup at first. I just could never get used to it, so I stuck with reusable cloth pads and ditched the cup for a while.
Then I got brave and decided I needed to try another menstrual cup.
I have an extremely heavy flow, usually on the second and sometimes third day of my cycle. So much so that I can't confidently leave the house without fear of being too far from a bathroom…
I have turned down going many places over the years because of this problem, and I was tired of it so I decided that I needed to give another menstrual cup a try. This time, I had the opportunity to review the SckoonCup menstrual cup.
I was a little nervous at first since I didn't have the best experience with my first menstrual cup (I tried 3 months in a row and it was just uncomfortable). But, I was hopeful because SckoonCup promised to be different.
The SckoonCup is softer and more flexible than the cup I tried before. It also has a smoother outer curve than the other cup I tried.
The first few times I tried to use it, I did have some difficulty getting it to fully open once I inserted it per the directions. I was worried that it wouldn't work, but it did. After several attempts, I figured out how to insert it and get it to expand fully. I have been using it (or a replacement SckoonCup) ever since.
On my heaviest night, I usually wake to change my pad twice (and this is with a heavy-duty, overnight pad). With SckoonCup and one of my overnight pads, I was able to make it 8 hours on my heaviest night before I had to get up. That is a success for me! I also feel comfortable leaving the house, even on my heaviest flow day.
Unlike the previous cup I used, I can't feel the SckoonCup at all once I get it inserted. The learning curve with getting it to expand fully was worth it for me!
If you have thought about trying a menstrual cup, I recommend the SckoonCup menstrual cup.