We got our first Kelty pack when Zoë was just under a year old. It was the transit carrier style and we used it all the time. During our year in Uruguay, it got used almost daily. Zoë loved sitting up high where she could see everything that was going on.
After 3 years of frequent use, it finally wore out, so we were ecstatic to receive a Kelty Pathfinder 3.0 to review (the new model has been renamed the Kelty PerfectFit Child Carrier). There are so many awesome places to hike where we live, but the girls can't always walk the whole way so it's nice to have a carrier to pop them in.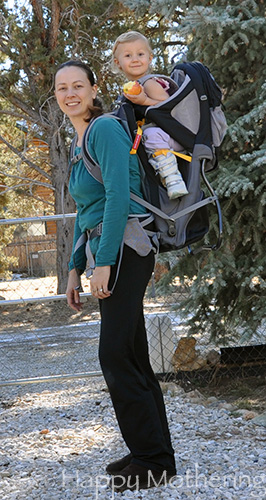 The Kelty Pathfinder 3.0 is a top-of-the line JPMA certified frame carrier that's designed to provide the ultimate in safety and comfort for your child. It has a kickstand that auto-deploys and a lightweight aluminum frame.
The carrier features a new and improved easy-to-access adjustable suspension system that ensures the perfect fit for both mom and dad.
The shoulder straps and back panel are laminated and padded.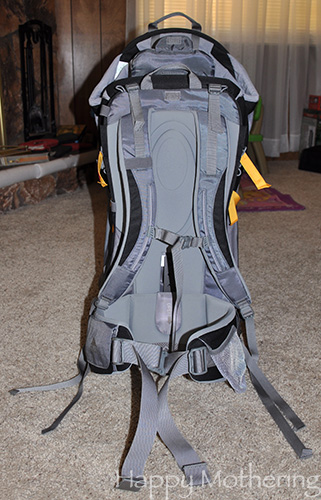 There are also new leg-secure straps and an adjustable 5-point harness too keep your little one comfortably in-place.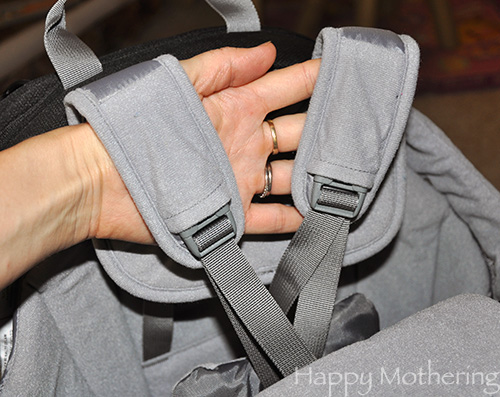 A detachable sun hood is included. It's easy to install and uninstall and fits neatly inside the pack. We found this to be one of the essential features in a good backpack carrier.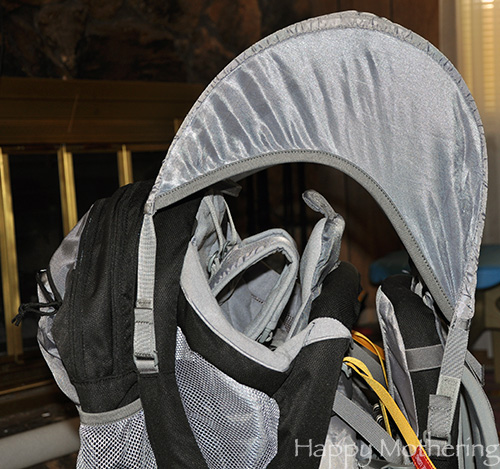 There's plenty of storage for you to bring items on your hike, including 2 zip compartments on the top of the backpack, one under the seat and a hydration-ready compartment.
The waistbelt adjusts from both sides and is laminated, padded and contoured. It has a water bottle pocket and a small storage pocket.
The backpack portion zips off of the carrier and can be used as a daypack. If your little one is still in diapers, this pack also includes a changing pad.
Additional features include:
Toy loops
Carry/lift handles
Removable, washable chin-pad
Load-lifter straps
Sternum strap
Brian does most of the backpack carrying of the girls, so I had him put it on first. He was amazed at how much more comfortable it is than our previous carrier. They have made some awesome improvements to their design over the last few years. However, the one thing he said she wishes it had was the rearview mirror our old Kelty pack had.
I had problems wearing the transit carrier comfortably, but the Pathfinder 3.0 fits me much better. I think I could actually wear it out hiking!
Kaylee said it was comfortable to sit in as well. The child's seat is padded and adjustable so you can get a good fit for your kiddo.
You child needs to weigh a minimum of 16 pounds and a maximum of 40 pounds to be worn in the Kelty Pathfinder 3.0. That gives us 1 more pound before Zoë hits the weight limit (she's 4 ½).
The maximum weight load (child + gear + pack) is 48.5 pounds. The max child weight is 40 pounds. With Kaylee, we can carry about 16 pounds of gear and stay within the weight limit, so we'll be able to use the pack for a good amount of time.
If you're an outdoors family, I highly recommend the new model, the Kelty PerfectFit Child Carrier. It's comfortable, safe and well made.