Is morning sickness making it hard to enjoy your pregnancy? Check out these 10 natural remedies for morning sickness – you might find a new one that works!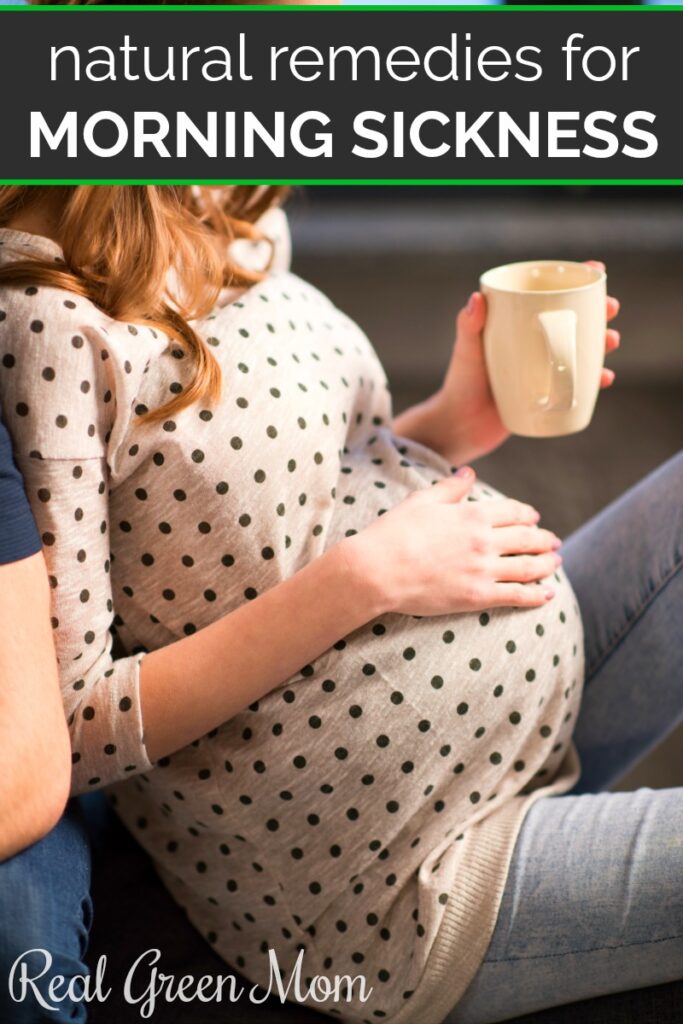 For many women, the first sign of pregnancy is morning sickness, and about half of all pregnant women will experience morning sickness. I knew I was pregnant for the first time when I started feeling nauseous – and I wasn't even 4 weeks pregnant yet!
Fortunately (or unfortunately, depending upon how you look at it), while I was nauseous constantly through my first trimester, I never actually vomited – although there were times I wish I could have. I had so many food aversions – to things like chicken and zucchini – as well as cravings for things like berries and ice cream. Even certain smells would make me feel sick.
I know from experience that when you're going through morning sickness, it feels like it will never end. You can, however, ease the nausea with these simple natural remedies for morning sickness.
10 Natural Remedies for Morning Sickness
1. Eat Regular, Small Meals
Keeping your blood sugar stable is one of the keys to combating nausea. Make sure you eat every few hours. You can even keep snacks by your bedside and nibble on them if you wake up in the night or before you get out of bed in the morning.
2. Up Your Protein Intake
Getting adequate protein in your diet is also important for maintaining steady blood sugar. Make sure to have some protein at each meal and snack.
3. Stay Hydrated
If you're dehydrated, you are more likely to feel nauseous. Make sure you're drinking at least 100 ounces of water a day. When I was pregnant, I could only drink water with lots of ice and lime added, so do whatever you can to make sure you're getting your fluids.
4. Supplement with Magnesium
Magnesium deficiency can also cause nausea. While pregnancy hormones make it harder for your body to absorb magnesium, it will still absorb some. It's best to use topical magnesium for optimal absorption.
5. Get Natural Vitamin D from the Sun
Another deficiency that contribute to morning sickness is vitamin D. While supplementing is great, it's best to get your vitamin D naturally from the sun. Spend 10-15 minutes in direct sunlight mid-day every day to optimize your body's production of vitamin D.
6. Get Your B Vitamins
B vitamins also play a huge part in controlling nausea. Make sure you're getting enough B vitamins, especially vitamins B6 and B12.
7. Get Enough Sleep
It's very important to make sure you're getting enough sleep. Especially if you're experiencing morning sickness. You need to make sure your body is functioning at its best for all of the tips above to work.
8. Eat Ginger
If you're following all of the tips above for prevention, and you're still experiencing morning sickness, there are a few things you can do to remedy it. Ginger is well known as a natural remedy for morning sickness and nausea.
You can eat foods with grated ginger added, drink ginger tea, smell or diffuse ginger essential oil. Free from artificial colors and flavors, these lozenges were formulated with essential ginger oils to help relieve upset stomach. They also include folic acid to contribute to a normal maternal tissue growth during pregnancy.
9. Consume Peppermint
Peppermint is also great at easing nausea. You can drink peppermint tea suck on mints or add fresh peppermint leaves to your water. Inhaling or diffusing peppermint essential oil can also help.
10. Wear Sea Bands
Sea Bands and anti-nausea bands that go on your wrists, and alleviate nausea by compressing your acupressure points. Sea-Band Mama wrist bands use acupressure to trigger the P6 Nei Kuan pressure point on the inside of the wrist to alleviate nausea from morning sickness. Stimulating this pressure point helps the body to calm nausea and vomiting.
These are some of the best natural remedies for morning sickness. I hope you discovered a new home remedy that gets your tummy feeling better fast!