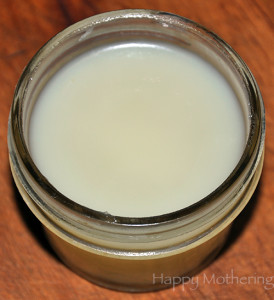 All you need to homemade natural vapor rub are three natural ingredients: coconut oil, beeswax and essential oils to support respiratory function.
I used a 4 oz jelly jar for this recipe, which makes a big batch of vapor rub, but it should last in your medicine cabinet for up to 2 years.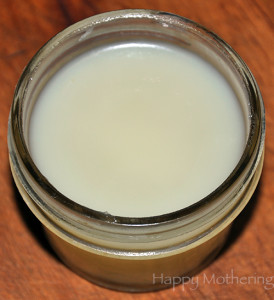 Homemade Vapor Rub Recipe
Learn how to make a simple vapor rub with three natural ingredients.
Print
Instructions
Add your coconut oil and beeswax pastilles to a double boiler and stir frequently until completely melted and smooth. Add the essential oil and stir, then transfer to the small mason jar.

Place the jar in the refrigerator for a couple hours until the mixture hardens. Store in a cool, dark place. I keep mine in the fridge.
How to Use Natural Vapor Rub
You can apply the vapor rub directly to your chest and neck, and even put a little under your nose. Another great way to use it is to put it on the bottoms of your feet and then put socks on.
It help my family maintain a feeling of clear airways and easy breathing almost immediately after we applied it. She smiled and sat down next to me to rest. She didn't like having it put under her nose, so we've been sticking to the neck, chest and feet.