If you're suffering from digestive issues, you're probably searching for an easy home remedy. This list of 11 natural remedies will teach you how to settle a simple upset stomach so you can get relief fast.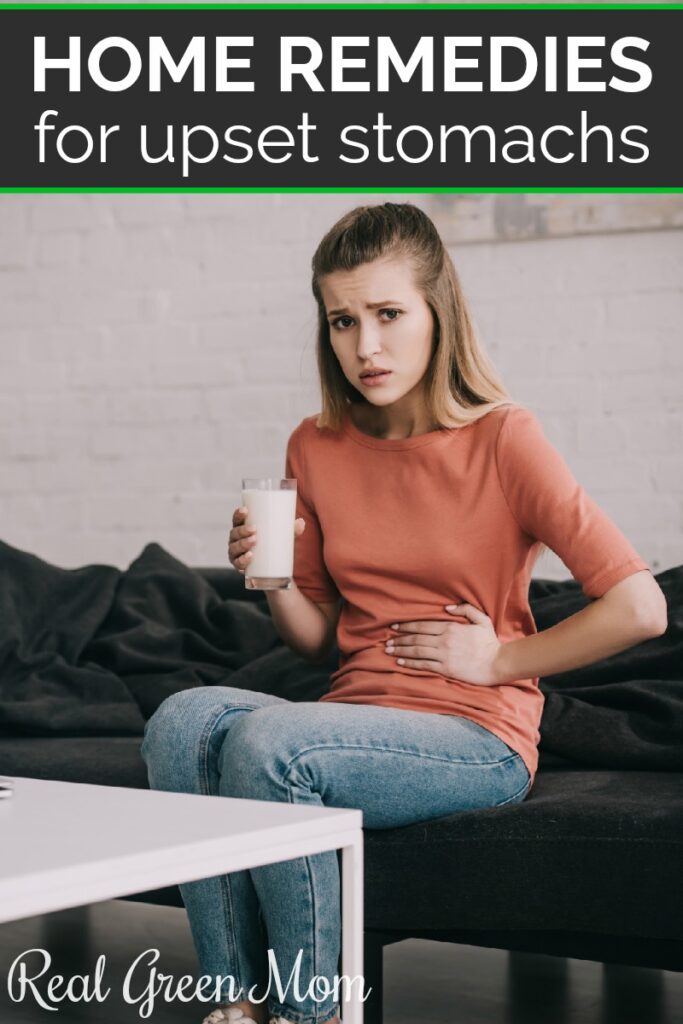 It happens to all of us at some time or another. We eat something we'e not supposed to and we end up with an upset stomach.
Prior to my natural living days, I'd reach for the Tums without thinking twice. While it may seem like a safe choice to take calcium carbonate to ease your digestive troubles, you need to look further into the inactive ingredients.
The inactive ingredients in the Assorted Fruit Tums include:
adipic acid, corn starch, FD&C blue #1 lake, FD&C red #40 lake, FD&C yellow #5 (tartrazine) lake, FD&C yellow #6 lake, flavors, mineral oil, sodium polyphosphate, sucrose, talc
Yummy artificial food colors, GMO corn, mystery flavors, petroleum and talc? I'm not sure why anyone would want to ingest those ingredients. After realizing what I was putting into my body every time I took Tums, I stopped.
Now I prefer to go the more natural route, and make choices that can help my body more than harm it. There are a lot of natural remedies you can try when you're stricken with an upset belly.
11 Home Remedies for Upset Stomachs
1. Bentonite Clay
Taking bentonite clay is my go-to remedy for pretty much all stomach ailments. If I have heartburn, I take a dose and it's gone within 20 minutes. It can also help with diarrhea, constipation, stomach ache, acid indigestion, acid reflux and other digestive problems. I prefer to buy it in the capsule form for stomach issues, but you could also encapsulate it yourself like we do with fermented cod liver oil.
2. Activated Charcoal
I haven't tried activated charcoal because bentonite clay works so well for me, but I have heard of many people having great success with it. Since it's very absorptive, it can absorb toxins and gas, and help move them out of your body.
3. Baking Soda
You probably have this natural remedy for upset stomachs in your cabinet your refrigerator already – baking soda. Simply dissolve 1/2 teaspoon in 4 ounces of water and drink. It doesn't taste the best, but I have done it in a pinch and it does work. You can do this every 2 hours until the issue resolves.
4. Apple Cider Vinegar
When I was pregnant with Zoë, I had extreme heartburn. I started taking apple cider vinegar regularly and it helped tremendously. Just add up to a tablespoon to a glass of water and drink. You can add some raw honey to help mellow the flavor.
5. Raw Honey
Adding raw honey to your apple cider vinegar has a secondary benefit – its enzymes also aid in digestion. Remember to only choose raw honey as the enzymes are destroyed when honey is heated.
6. Herbal Tea
Another go-to remedy in our house for upset bellies are herbal teas. We most often choose peppermint, ginger or chamomile, but you can you can also go with one of these options: cinnamon, fennel, lemon balm, licorice, sage and yarrow.
7. Kombucha
I love using kombucha as a digestive aid. If I wake up not feeling well, or a meal just didn't sit well with me, I open up a jar of our home brewed kombucha and drink as much as my body tells me a I need. It really aids in digestion.
8. Fermented Foods
Eating fermented foods with each meal can also aid in digestion. When we have Mexican food (which is often), I love to eat my fermented spicy carrots or fermented salsa verde to assist my digestive system. You can also choose sauerkraut or any number of fermented foods, depending upon what goes best with your meals. The girls love fermented ginger – it's an easy way to get them to eat tummy soothing foods.
9. Probiotics
Taking probiotics regularly can help regulate your digestion over time. If you don't have the desire to make your own fermented foods, which are an excellent source of probiotics, you can also take a probiotic supplement. You can choose from any number of probiotics available at most health food stores.
10. Aloe Juice
Drinking aloe juice is another way to soothe the stomach. You can make your own, or buy aloe juice, which is a bit easier, especially when you're not feeling well. In addition to supporting healthy digestion, aloe juice can also help support a healthy immune system, making it a great choice for calming upset stomachs.
11. Essential Oils
There are a variety of different essential oils that can help soothe upset tummies. I like Plant Therapy's DiGiZen blend or Tummy Aid blend, or you can try a combination of ginger, peppermint, fennel and lemongrass. Rub the blend into your stomach (we don't recommend taking essential oils internally). Be sure to understand how to dilute essential oils before applying them to your stomach.
As you can see, there are many options for natural home remedies for upset stomachs. You may need to try a few before you find the remedy that works best for you.