Elderberry syrup can help support the immune system. Learn how to make homemade elderberry syrup for a fraction of the price of store bought in this easy tutorial.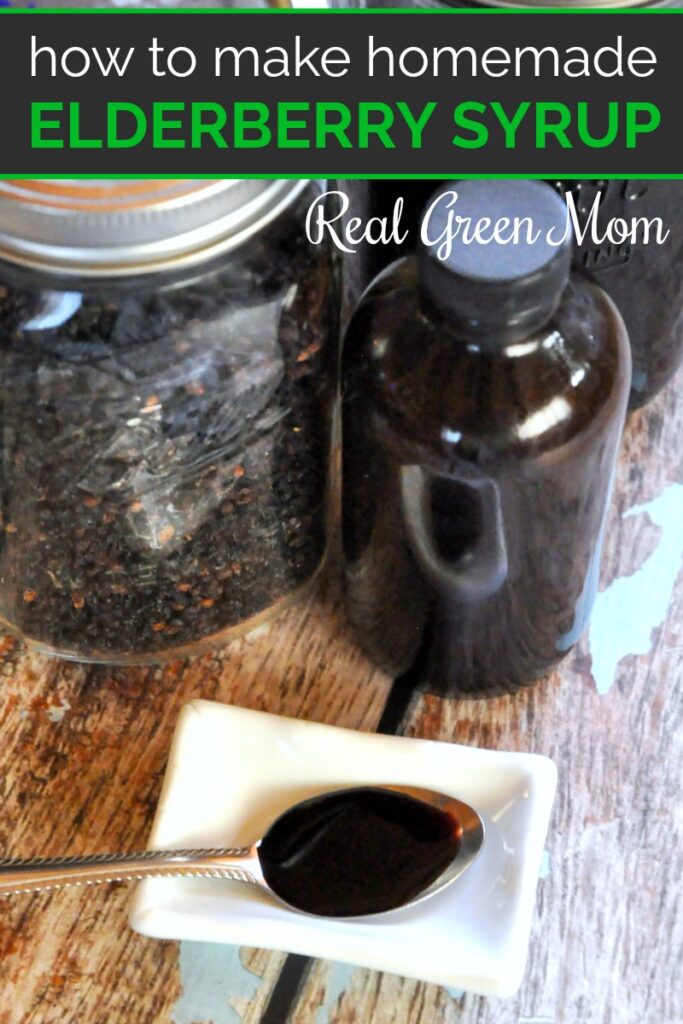 Elderberry syrup is one of my favorite home remedies to reach for during the winter months. This tasty homemade syrup helps to keep our immune systems strong so they can fight off seasonal bugs.
If you aren't familiar with elderberries, they are rich in anti-oxidant flavinoids and the anti-inflammatory, anthocyanin. There have even been mainstream studies to suggest that elderberry extract can help support the immune system during illness.
So if you don't have elderberry syrup in your home remedy arsenal now, learn how to make DIY elderberry syrup now so you're ready for winter. Since this easy recipe is made with dried elderberries, you can keep the ingredients on hand so you can make it when you need it.
You can also purchase ready-made elderberry syrup, but it's much more expensive than making your own! I made 40 ounces for around $16 using only organic ingredients (that's around $0.40 per ounce). You typically see elderberry syrup for around $16+ for 8 ounces – that's $2.00 per ounce! What a huge difference!
It's clearly a much better deal to make your own elderberry syrup, not to mention that you can control the quality of ingredients! From now on, be sure to keep the ingredients to make this homemade elderberry syrup on-hand during cold and flu season to help keep your family's immune systems strong!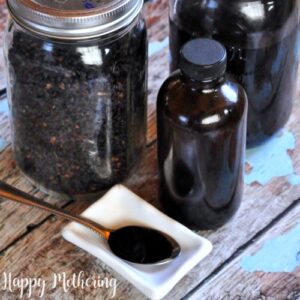 DIY Elderberry Syrup Recipe
Learn how to make your own homemade elderberry syrup from dried elderberries.
Print
Instructions
Bring your filtered water to boil in a large saucepan. Pour your elderberries into the water, then reduce to a simmer.

Simmer the elderberries for 45 minutes, or until the liquid has been reduced by around half.

When the syrup has cooled, strain through a fine mesh sieve or cheesecloth.

Stir in the honey after straining (you want to make sure it's cool so you don't destroy the beneficial enzymes).

Pour your elderberry syrup into a glass mason jar or other glass jar, then store in the fridge for up to 2-3 months.