As a first time mom, I remember being so overwhelmed by the sheer amount of baby gear that was "necessary." Luckily, my sister (who already had two kids) went with me to register.
I quickly developed my own parenting style and realized a lot of the things I originally got just didn't work with our lifestyle. I ended up selling a lot of stuff and getting new stuff that worked better for us.
Every family is different. Before choosing items for your baby, especially the bigger ticket items, think about your lifestyle and how that item may, or may not, fit into it. Be prepared for some things you thought would be perfect to not work out. And for others you never thought you'd use to become essential.
One item that is usually considered essential is a playpen or play yard of some sort. The Pack 'n Play seems to be one of the most popular models, and it came highly recommended by my sister. So, on my registry it went.
In concept, it was great. It had the bassinet on top, which was perfect for a newborn, and even had a changing table. I was sold! I really thought I would have it out in the living room so I could let Zoë nap and change her diapers without having to go into her room.
That never happened. Every single one of her diaper changes happened on her changing table in her room and she either napped on her Boppy Luxe Newborn Lounger in the living room, or in her cradle in my room (and later in her crib).
The Pack n' Play only got used a handful of times when Zoë spent time at family's house. Even folded up, I found it to be bulky and heavy and most of the time when we would travel, I would just leave it at home and Zoë would sleep with us.
We really enjoy traveling, and sometimes it's convenient to have Zoë sleep somewhere other than in the same bed with us. Even if it's just so she has a safe place to nap.
So, we ended up selling the Pack n' Play and buying a Baby Björn Travel Crib Light. It's much more lightweight (only 11 lbs) and it's easy to put up and take down.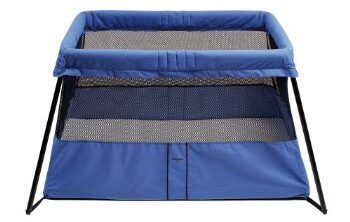 It even fits into a full sized suitcase. It takes up about half of the suitcase, which is great for traveling. So, if you travel a lot, I would recommend the Baby Björn Travel Crib Light.
There is a special sheet you can buy for it, but I tend to just use a regular crib sheet. It fits fine, and it's less expensive than the Baby Björn fitted sheet.
I know a lot of people swear by their Pack n' Plays, but we really like our Baby Björn Travel Crib Light.