The Hostling AP Adjustable Pouch Baby Carrier is designed for moms who want a sling to grow with their baby.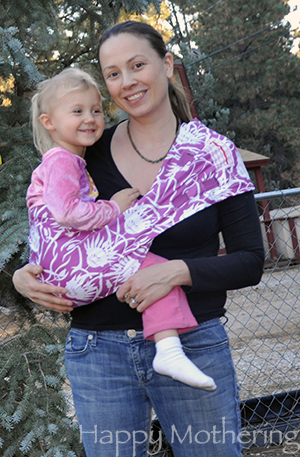 I have had the opportunity to try out so many baby carriers with Kaylee – it has been awesome. I love babywearing, and it's great to have a good feel for most of the carriers on the market so I can recommend the best babywearing option for a fellow mama's personal needs.
The Hotslings AP is designed for use with for babies 8lbs – 35lbs. Kaylee weighs about 25 pounds (she'll be 3 in February) and is tall, so I was curious how the Hotsling AP would work with her. She gets so excited whenever we get a new baby carrier to try, so I never have problems testing them out with her.
This sling comes with a carrying case that can double as a diaper pod.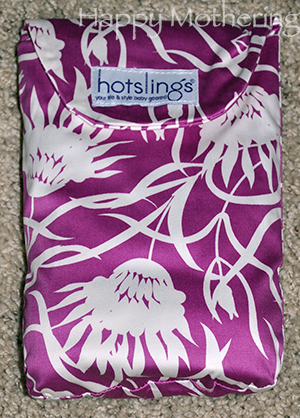 The sling was very easy to adjust. You just pull the two straps until you have the desired size and you're set!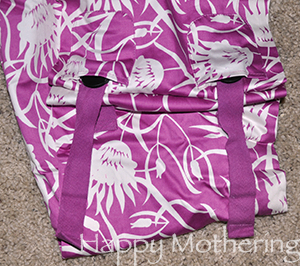 She squealed with joy when I pulled out the Hotslings AP and was practically climbing up my leg to get in it (can you tell my daughter loves to be worn?). And Zoë was more than eager to snap some photos of Kaylee in the pouch.
It was surprisingly comfortable to wear her in this sling! Even though there is some light padding in it, I probably wouldn't wear her for long periods of time in it. However, I would consider using it at times when she wants to be held and I need a free hand. Since it only weighs 0.6 pounds it would be easy to pop in my purse and carry it for when it's needed.
I like that you can wear it on either shoulder. There is an arrow on the sling that shows you which direction to wear the sling too, which is helpful for someone like me who isn't a regular sling wearer.
If you're looking for a good pouch carrier, check out the Hotslings AP baby carrier.