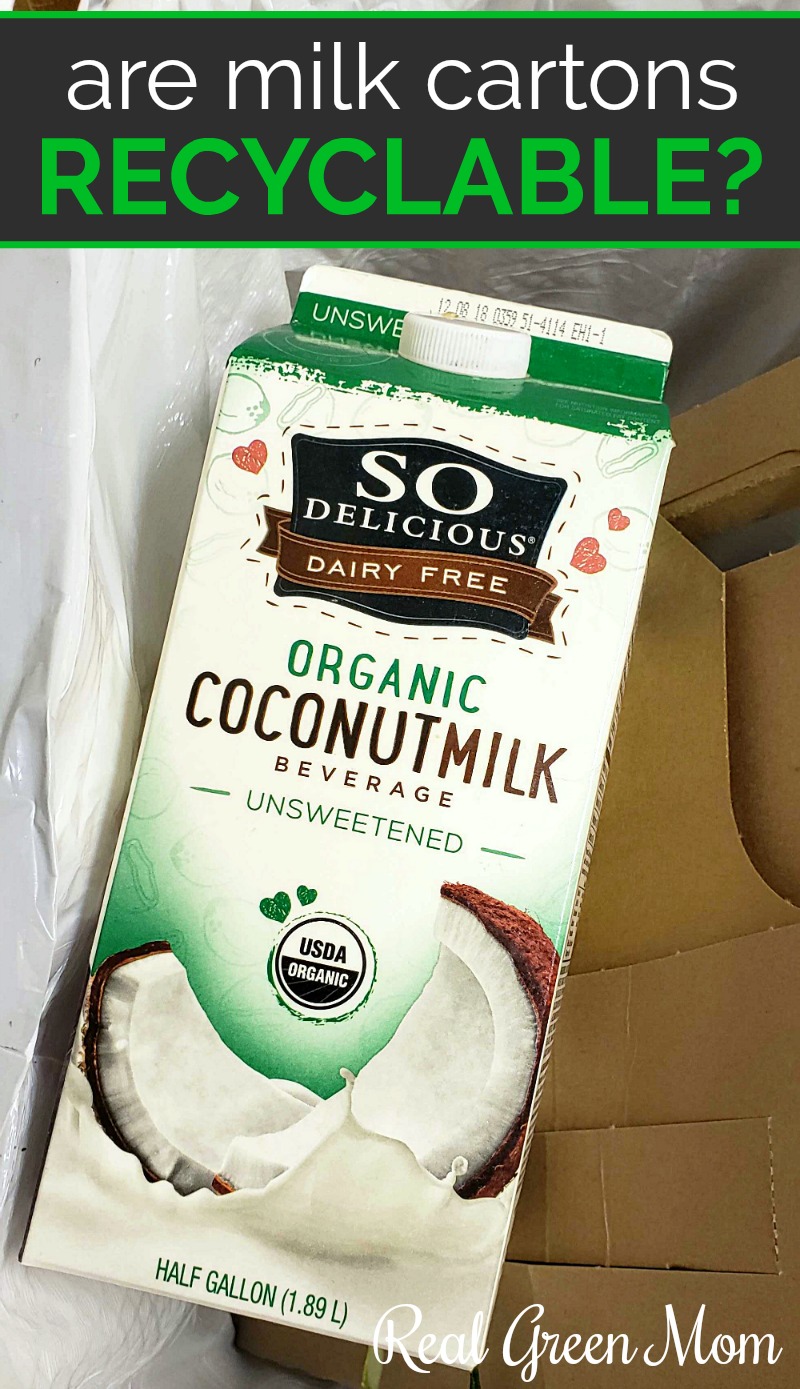 When talking with people, I find there is a lot of confusion about what can and cannot be recycled. It will be a bit different in each area, but for the most part it's similar in most communities.
One question that seems to pop up often is, "are milk cartons recyclable?" For a long time, you couldn't recycle them in many areas, but now you can!
Milk Carton Recycling is Growing!
In fact, more than 62% of U.S. households can recycle cartons in more than 13,500 communities. That access is continuing to grow.
When I talk about milk cartons, I'm talking about cartons that hold other things like soup, wine, water, creamer and juice.
These cartons are made primarily out of paper with a thin layer of plastic and/or aluminum. They're popular because they're lightweight and you can take them places you can't take glass.
They're eco-friendly because they consist of, on average, 93% product and only 7% packaging. So not as many resources need to be used for the packaging. And, it's easy to recycle cartons in most areas.
Why Recycle Cartons?
When you recycle cartons, they go on to become new items so we can reduce our resource consumption.
Americans are so wasteful!
Did you know that the average American creates more than four pounds of trash every single day? About 75% of the waste we generate is recyclable. We just need to hold ourselves accountable to recycling it.
If Americans were to recycle just 30% of all municipal waste, we would save the energy equivalent of 11.9 billion gallons of gas. That's estimated to be the greenhouse gas equivalent of taking 25 million cars off the road.
It's important – and easy – to recycle!
If you make recycling a routine, then it becomes second nature. We tend to recycle more than we throw away, and we try to compost what we can as well.
We have two trash cans in our kitchen – one for trash and one for recycling. I find that we end up with a lot more recycling than we do trash. We're working on keeping that trash percentage as low as possible.
It's easy to recycle cartons. All you have to do is put empty cartons in the recycling bin! You don't have to rinse them out and you can even leave the cap on them. Super easy.
Just don't crush your cartons. They're actually recycled more efficiently when you leave them in their original shape. That's probably since they're made from layers of different materials.