I love that Beco Baby Carriers are made in the USA, and that each carrier is handmade by a skilled seamstress in facilities that apply high social and economical standards. Their packaging is also made from 100% recycled content and printed with soy-based inks.
I was excited to receive a Beco Gemini carrier in Sierra Espresso to test out with Kaylee. It's a really pretty pattern, and it's made from 100% organic cotton (the fill is polyester). It is one of the most padded baby carriers I have tried, making it very comfortable to wear. It can be used with babies from 7 pounds up to 35-pound toddlers.
Of course I used it first in the back carry position, since that is my go-to babywearing position.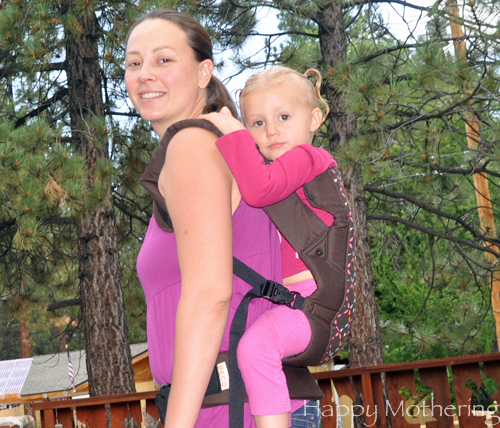 It can also be used to hip carry and front carry, facing in or out. Adjusting the carrier for a front carry (or for a smaller baby) is quite simple.
You'll see snaps on the back of the carrier.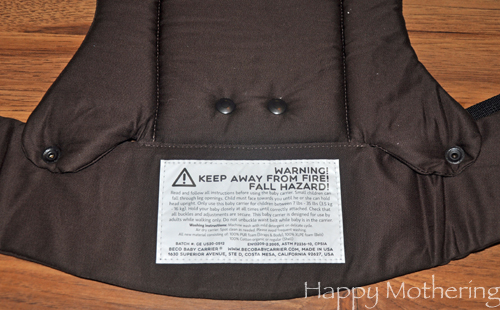 Just unsnap them, and fold them over to the front of the carrier and snap them there.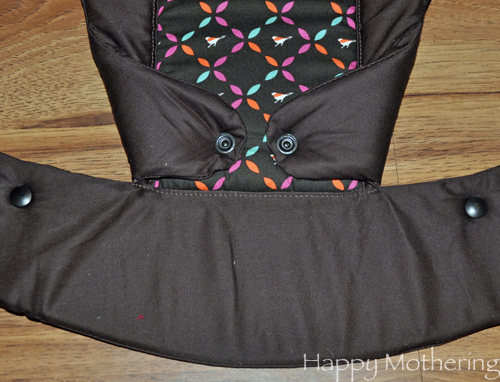 Up until now, I have only had one experience with a baby carrier that could be used in the facing out position, and it wasn't a positive experience. I was uncomfortable and I know Zoë was too. I think I left her in that position for about 10 minutes before taking her out of that carrier and never using it again.
So I was hesitant to even try out the facing out option for the Beco Gemini Carrier. It was surprisingly comfortable for me, and Kaylee thought it was absolutely hilarious. I think we took 30 pictures to get just one where she wasn't making one of her silly faces.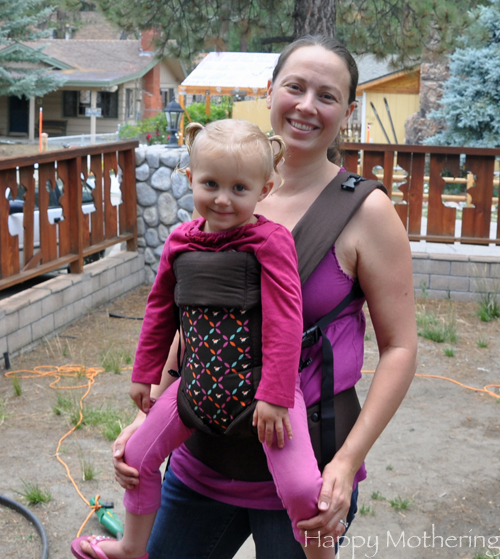 However, I probably won't be carrying her in the facing out position as I don't feel her hips are properly supported. Plus I love all the sweet kisses she gives me when she's facing inward.
The waist buckle has a safety feature I hadn't encountered before – a button that has to be pushed to open the buckle clasp. It took me a minute to figure it out!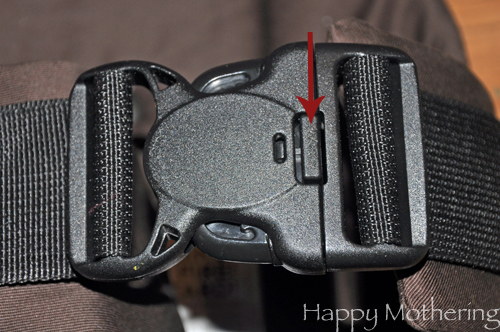 The waist belt can be adjusted from 28″(size 0) up to 57″ in length. The shoulder straps are also very adjustable, from 23" all the way up to 45″ in length.
I also like that it has a foldable headrest. We used it up in the back carry position, and down in the front carry position. It's also a quick snap change.
Head rest up: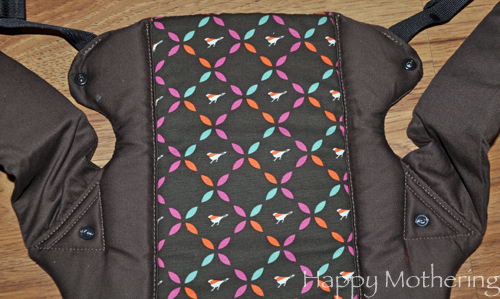 Head rest folded down: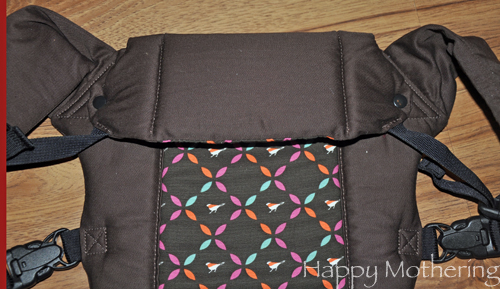 One thing that I do wish the Beco Gemini carrier had was some of storage pocket – even just a small one. When we walk to the park, I like to be able to put my keys in a zippered pouch on my carrier rather than in my pocket. However, the carrier only weighs 1.5 pounds, so it's a trade-off.
Overall, I have found the Beco Gemini Baby Carrier to be a very comfortable baby carrier that provides a carry position that most carriers don't provide (outward facing in the front carry position). It's durable and made ethically in the USA, which are huge bonuses.