Learn how to make the best fresh Cherry Crisp for dessert in this easy gluten free recipe. Make it even easier by using a pre-made tart crust!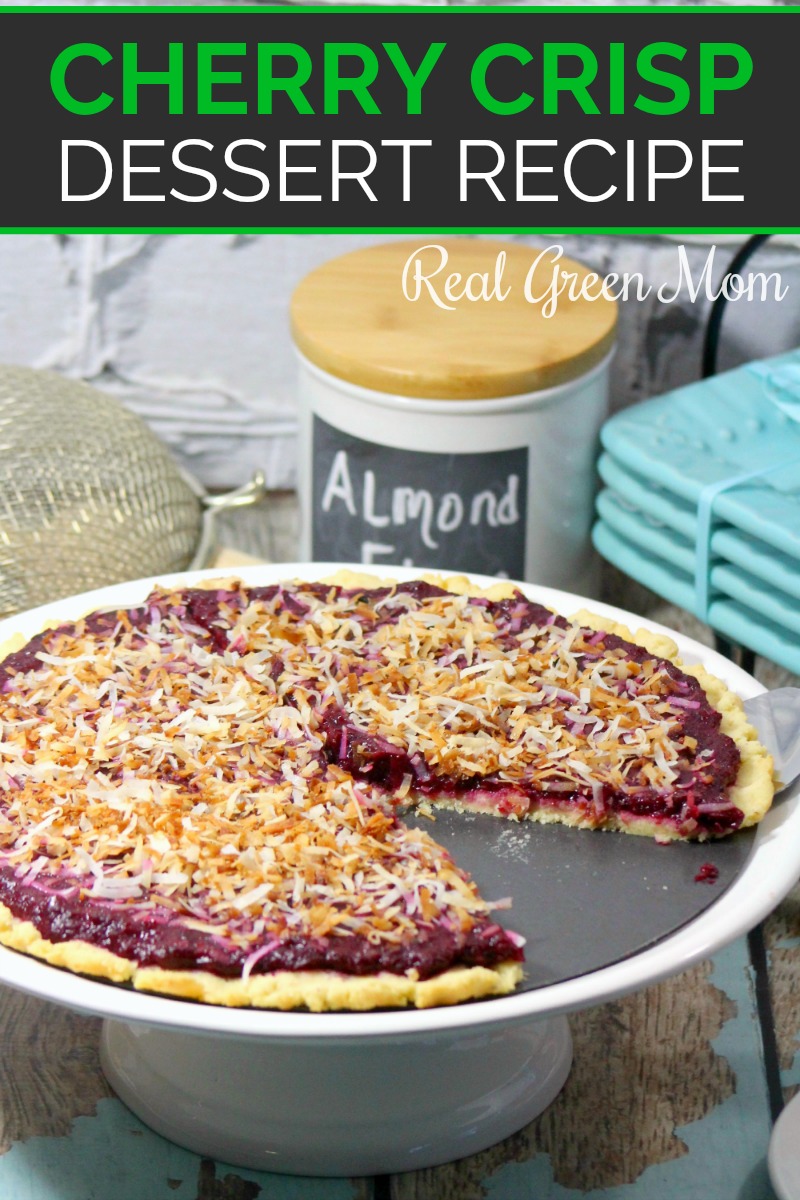 Cherry season is one of my favorite times of the year. Our CSA has had some wonderful cherries, and it inspired me to create this paleo cherry crisp recipe.
Even though I don't eat a lot of sweets, I do enjoy a good dessert every once in a while. I wanted this recipe to only use honey as a sweetener so I wouldn't feel guilty eating this dessert.
If you're looking for a good paleo cherry crisp recipe, give this one a try before cherry season is over!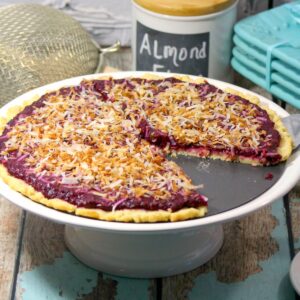 Cherry Crisp Dessert Recipe
This delicious cherry crisp is the perfect dessert for cherry season this year. Plus it's gluten and grain free too!
Print
Instructions
How to Make the Crust
Preheat oven 350° F. Have a 9-inch tart pan ready.

Combine all of the crust ingredients in a food processor. Pulse until all ingredients are dough like, then take out of the food processor.

With your hands, work the dough into a ball.

Flatten the dough on the bottom of the tart pan and press just like you would with a pizza crust.

Bake at 350 degrees for 12 minutes.

Remove the crust from the tart pan and allow to completely cool on wire rack.
How to Make the Cherry Filling
Put cherries in a pot with orange zest and juice, then add honey and stir to combine. Cook on high heat until it begins to boil. Reduce heat and simmer for 15 minutes or until the orange juice and honey begin to thicken.

Pour the mixture into a bowl and allow it to cool.

Next, put the cherry mixture into a food processor and puree until all of the big chucks are gone.

If the mixture is still a little watery, drain the liquid.

Spread the cherry mixture over the pre-baked crust.
How to Make the Coconut Topping
Put the shredded coconut into an untreated skillet on low heat, stirring often as the coconut begins to lightly brown.

Remove the toasted coconut from the skillet and allow to cool. Sprinkle on top of the pureed cherry and serve warm or refrigerate and serve chilled.
Nutrition
Calories:
397
kcal
|
Carbohydrates:
44
g
|
Protein:
10
g
|
Fat:
24
g
|
Saturated Fat:
6
g
|
Cholesterol:
27
mg
|
Sodium:
109
mg
|
Potassium:
198
mg
|
Fiber:
6
g
|
Sugar:
34
g
|
Vitamin A:
108
IU
|
Vitamin C:
11
mg
|
Calcium:
98
mg
|
Iron:
2
mg